Joined

Mar 7, 2014
Messages

35,604
Reaction score

4,538
Points

1,130
Expected deaths last year were 3,060,558, 3,440,865 people actually died. That's an excess of nearly 400,000 people. That's an 1/7th increase in the number of deaths. That's a high number.

Bullshit. "Expected deaths" is nothing more than a wild-ass guess even if honest and pure propaganda manipulated by guesser if not. If there are more people in the population estimate a higher number of deaths is natural. The one thing that cannot be expected is that the number of deaths should remain the same from year to year which is exactly what you claim. How many people were in the USA in 2020? You really have no idea. Do you honestly think that somebody took into account all the illegal and unidentified aliens? The death rate in an actual pandemic like the Spanish Flu is many many times higher than corvid has actually caused. And you never bother to tell us who is actually supposed to have made these wild-ass guesses.
Yes, it's a guess. A very educated guess.
It takes the previous five years death rates, and follows the pattern.
If you have 5 deaths in 2015, 6 deaths in 2016, 7 deaths in 2017, 8 deaths in 2018, 9 deaths in 2019, the predicted death rate in 2020 will be 10. So if you have 11 deaths in 2020, the excess death rate will be 1.
It's not difficult to understand.
Chart and table of the U.S. death rate from 1950 to 2021. United Nations projections are also included through the year 2100.
www.macrotrends.net
2014 8.264% of people died.
2015 8.369% of people died. 0.105% increase
2016 8.475% of people died. 0.105% increase
2017 8.580% of people died. 0.105% increase
2018 8.685% of people died. 0.105% increase
2019 8.782% of people died. 0.097% increase
So we can see that there's been a VERY consistent increase in the number of deaths per year. The only difference is 2019 where it dropped by 0.008%.
So what would your prediction for 2020 be? Either Somewhere between 0.089% to 0.113%.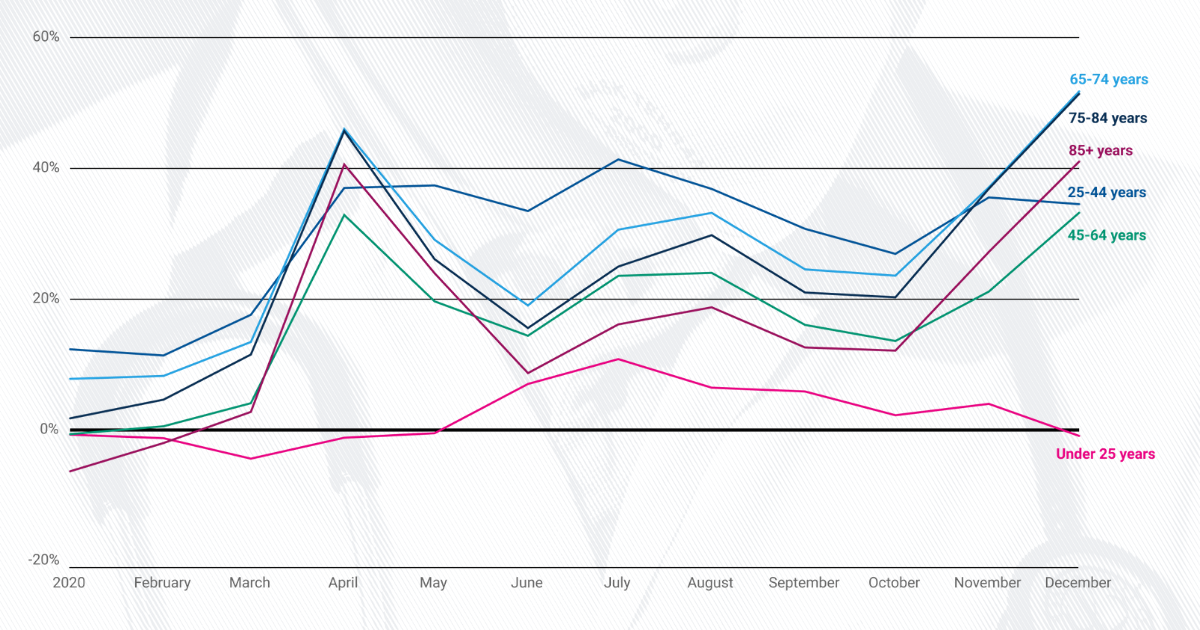 Preliminary US death statistics show over 3.4 million total deaths in 2020 — 20% more deaths than in 2019 — illustrating the toll coronavirus has taken on the US. While death certificates from 2020 are still being processed, over 572,000 more people died in 2020 than in 2019.

usafacts.org
The results for deaths in 2020 is probably not out yet. It takes time to get all the data from all around the country.
"ccording to preliminary weekly data from the
Centers for Disease Control and Prevention (CDC)
(as of April 26, 2021), 3,427,321 people died from all causes in 2020."
This is a rate of more than 10% (seeing how there are about 330 million people, it's about 10.3%, which means it's an increase of 1.5%, far, FAR above anything that would have been expected. In fact it's more than 10 times higher.