Joined

Apr 12, 2012
Messages

13,486
Reaction score

9,386
Points

1,265
Location
Democratic gubernatorial candidate Josh Shapiro has backed a high-profile lawsuit calling for an overhaul of Pennsylvania's school funding system.
philadelphia.chalkbeat.org
In Pennsylvania, the bulk of public school funding is raised at the local (school district) level through real estate taxes. A small percentage comes from the Feds, and about 35-40% comes from the State.
Perversities abound. When measuring funding on a per-student basis, the big cities with the (statistically) worst academics get the most money, second come the affluent suburbs with high real estate values, and third come rural districts with the highest real estate tax rates, due to low population density. Academically, the big cities do have various forms of "scholar" programs that facilitate SOME urban students getting an education that rivals a good private school, but as the cancer of DEI attacks them, their excellence is in serious danger.
In parallel with funding issues and issues of "equity" is a general movement in Academe to de-emphasize standardized testing, the results of which perennially embarrass both POC communities and public school teachers as a group. So any attempt to measure whether funding initiatives are succeeding in raising up the "worst" districts and schools is hampered by reluctant to quantitatively measure the academic status quo, over time.
So two questions are begged, so to speak. What if funding were "normalized" throughout the State, with every district spending the same amount per pupil (with an adjustment for the lowest population-density districts)? Would the Leftists consider that "fair," and what would that do to/for educational "outcomes"?
[Nothing].
The second question is,
if not per-student spending, what other criterion could be used to give every student in the State school system a reasonably equal education
- whatever that means?
[I haven't a clue].
One suspects that Leftist politico's would likely just like to throw more and more money to underperforming districts, while ignoring the fact that it doesn't do any good. But that's just my own prejudices coming out.
Here are some numbers: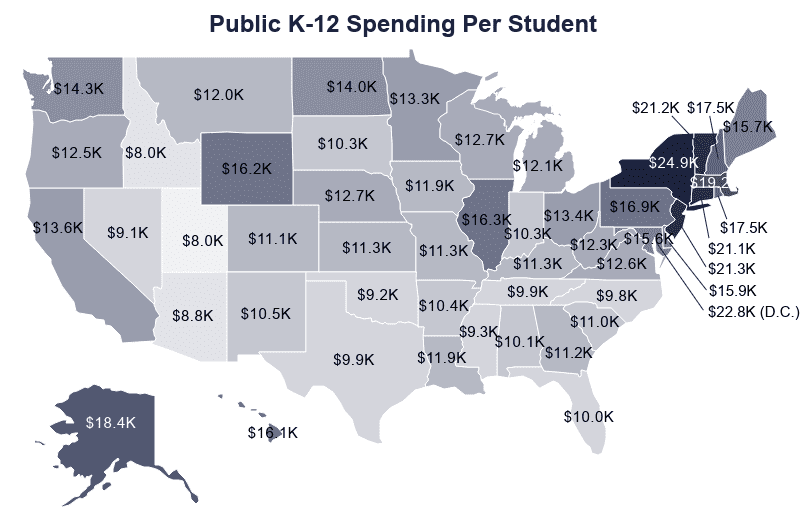 Find out how much the U.S. spends on public education and how the costs break down per student, by state and by level of government.
educationdata.org
So what do you think?
What spending principles would result in the "fairest" allocation of funds to the largest number of public school students?