Joined

May 8, 2017
Messages

29,411
Reaction score

3,627
Points

290
I know that the NRA has gone off the rails in recent years. But they actually put this together showing
KKK hoods on trains riding on burning tracks
. I'm not sure if they are mocking diversity or insisting the KKK and White Nationalists should be added to promote further diversity.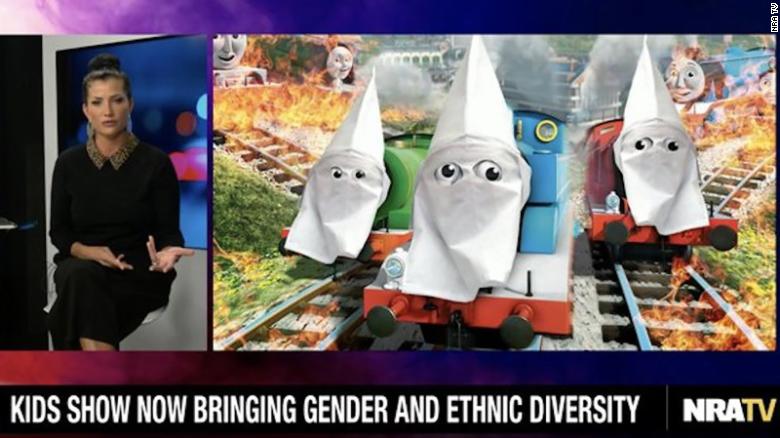 Wasn't the NRA's original mission gun safety and the outdoors?
Seems there is infighting within the NRA.
Infighting erupts at NRA convention, threatening leadership
NRATV, the online channel whose hosts not only aggressively defend the NRA and its cause but often venture into political debates not directly related to firearms, such as immigration or diversity on even children's TV. In its lawsuit, the NRA said some of its members have questioned NRATV's weighing in on "topics far afield of the Second Amendment."
One NRATV segment in particular seemed to be the last straw for some members: It took the children's show "Thomas & Friends" to task for adding some ethnically and gender diverse characters to its lineup of talking locomotives and other vehicles. The segment featured several
trains wearing Ku Klux Klan hoods and sitting on flaming tracks
.
--------------
The whole "diversity" thing with Thomas the Train was a partnering with some toy company who owns Thomas and the United Nations. I think that's fantastic.
Also, I personally think this is also fantastic. The NRA is showing us who they are and what they represent. The NRA is a huge arm of the Republican Party. They are showing us everything I've been saying for years. It took Trump to show America and the world who they are and what they stand for. Well I am glad they are finally proudly standing up and being who they truly are.