Joined

Jul 11, 2015
Messages

2,884
Reaction score

617
Points

140
Location
#TheLargerIssue #SingleParenting #ChildNeglectMaltreatment #MentalHealth
#Solutions
Hello. This writing relates facts and opinions about our Nation's large
INTRA-RACIAL DISCRIMINATION practicing 'PRO BLACK, Woke and Conscious Black Communities'.


During the first five minutes of this interview Childhood Trauma and Gun Violence Homicide victim, as well as avowed
INTEGRATIONIST
Tupac Shakur, reveals his belief that some of his American neighbors are SELFISH, untrustworthy "SNAKES!"
This convo perfectly illustrates an admittedly troubled, though maturing Tupac's PAIN, conflicts & hypocrisy.
During this public interview Tupac speaks about Peace and UNITY.
Which may have inspired radical members of America's Violence and HATE embracing, INTRA-RACIAL DISCRIMINATION practicing PRO BLACK community to brutally assassinate Tupac for speaking his TRUTHS.
Was Tupac deemed guilty of failing to abide by the
'NO SNITCH Community Code of Silence' or "Don't Judge Me & I Won't Judge You' policy
that for decades has been enforced with threats of VIOLENCE by America's INTRA-RACIAL DISCRIMINATION practicing PRO BLACK community?
Was Tupac's murder meant to send a loud, clear message of
INTIMIDATION
to other peace-seeking Americans not conforming to the American PRO BLACK community's apparent desire to continue Normalizing family, people and community harming Dysfunction???
I'm referring to America's large INTRA-RACIAL DISCRIMINATION practicing, HATE and VIOLENCE embracing PRO BLACK community led by former President Barack "My Brother's Keeper" and First Lady Mrs. Michelle "GIRL POWER" Obama.
I'd like to learn caring,
RESPONSIBLE
fellow citizen's opinions about America's large 'PRO BLACK' community that chooses to HATEFULLY Harass, Bully,
INTIMIDATE
& Denigrate as C**NS, SELL-OUTS or TRAITORS, our successful free-thinking black or American friends, neighbors and co-workers of African descent choosing to peacefully pursue
THEIR OWN
unique vision for L, L, (LOVE) and Happiness!
​
A PRO BLACK minded community that has become well practiced at
INTIMIDATING
white or American citizens of European descent with 24/7 declarations of Racism, White Supremacy and White Nationalism, as well as adept at exploiting
"WHITE GUILT"
with constant cries of Racism and White Privilege...
...while at the same time WILLFULLY IGNORING America's unhealthy, potentially life scarring THUGLIFE Culture of Child Abuse, Emotional Neglect, Abandonment & Maltreatment vividly described in the public interviews or popular VIOLENCE riddled, female DENIGRATING music art composed by many victims of generational Child Abuse President Barack 'My Brother's Keeper' and Mrs. Michelle 'GIRL POWER' Obama chose to invite to their Nation's and children's home.
I look forward to reading my fellow citizen's opinions, with hopes of intelligently discussing
SOLUTIONS
for PREVENTING large numbers of our Nation's most precious and cherished assets from experiencing,
THROUGH NO FAULT OF THEIR OWN
, a traumatic, potentially life scarring childhood and teen upbringing fraught with Struggles, PAIN, Hardships, COMMUNITY FEAR, Frustrations, Uncertainty, Depression, Sorrow, Sadness, Torment, Demeaning Government Handouts, Resentment, HATE and COMMUNITY VIOLENCE!
The GOOD NEWS:
Introducing caring, RESPONSIBLE 'SOULutions' oriented Child Abuse Awareness, Education & PREVENTION Advocate, California Surgeon General Dr. Nadine Burke Harris, Founder & CEO of the 'Center for Youth Wellness'.
Dr Nadine Burke Harris | Founder & CEO Center for Youth Wellness |
"TRAUMA SURVIVORS Listen to the SCIENCE, Dr. Bruce Perry INTERVIEW"
Early Brain Childhood Development researcher explains how young brains learn words, and growing up in wordy family has positive outcomes for kids.
"Bruce D. Perry: Social & Emotional Development in Early Childhood"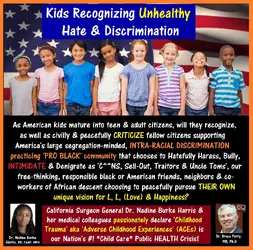 ​
Peace.
___
American *(Children)* Lives Matter;
Take Pride In Parenting; *End Our Nation's *CHILD CARE* PUBLIC HEALTH CRISIS*
Last edited: