Platinum Member
Supporting Member
Joined

Dec 27, 2009
Messages

34,426
Reaction score

1,956
Points

1,125
Location
The Making of Juan Guaido: How the US Regime Change Laboratory Created Venezuela's Coup Leader
"Before the fateful day of January 22,
fewer than one in five
Venezuelans had heard of Juan Guaidó.
"Only a few months ago, the 35-year-old was an obscure character in a politically marginal far-right group closely associated with gruesome acts of street violence
.
"Even in his own party, Guaidó had been a mid-level figure in the opposition-dominated National Assembly, which is now held under contempt according to Venezuela's constitution.
"But after a single phone call from US Vice President Mike Pence, Guaidó proclaimed himself as president of Venezuela.
"Anointed as the leader of his country by Washington, a previously unknown political bottom dweller was vaulted onto the international stage as the US-selected leader of the nation with the world's largest oil reserves."
And then came Marco: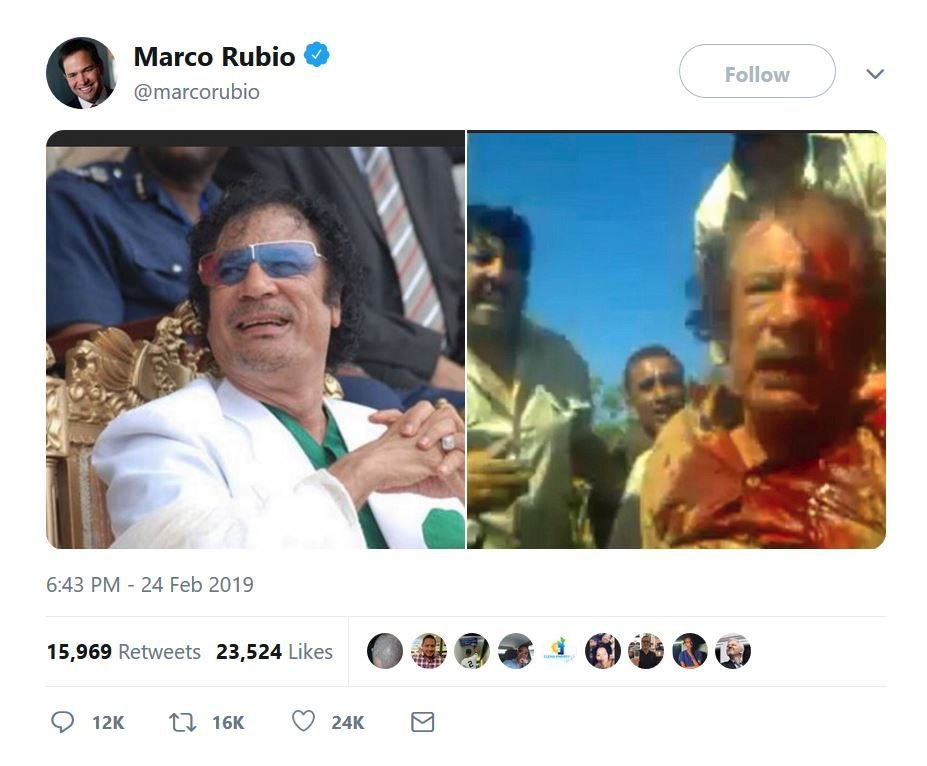 "United States Senator Marco Rubio (R-FL) tweeted a graphic picture of former Libyan dictator Muammar Gaddafi dripping in blood on Sunday in what was widely perceived to be a strongman message to
Venezuelan President Nicolás Maduro
.
"Gaddafi was tortured and savagely killed on the streets by Libyan rebels after the US-led NATO intervened and overthrew him in 2011."
Was Marco Rubio's tweet of a bloody Gaddafi aimed at Venezuela's Maduro?
After Maduro's highly suspect "reelection" in May of 2018, the Trump administration began actively pursuing regime change in Venezuela with Guaido on a short list of potential US puppets.

While he seem to have come from nowhere, Juan Guaido was the product of more than a decade of "assiduous grooming" by elite, US deep state regime change factories.

"Juan Guaido is a character that has been created for this circumstance."