Joined

Feb 16, 2016
Messages

7,833
Reaction score

12,439
Points

2,430
Location
The Trump Coup Attempt That Wasn't
Who's really assaulting democracy?​
The Trump Coup Attempt That Wasn't | Frontpagemag
10 Jan 2021 ~~ By Matthew Vandum
Leftists and weak-kneed Republicans were quick to accuse President Donald Trump of attempting to overthrow the democratic process on January 6 as individuals bearing Trump campaign flags and paraphernalia ran amok in the United States Capitol while lawmakers were attempting to officially certify the results of the November 6 election.
The election –don't forget—that the Democrats stole with the connivance of those same Republicans.
The disorder in the Capitol complex, during which an apparently unarmed Trump supporter, 35-year-old U.S. Air Force veteran Ashli Babbitt, was shot to death by police, didn't end the certification process, but merely delayed an official declaration a few hours. The barely sentient former Vice President Joe Biden, a left-winger now held hostage by even more radical elements of his anti-American party, hobbled across the finish line as he was pronounced president-elect early in the morning January 7 after lawmakers rejected a series of Republican objections to states' presidential electors. Support for the objections collapsed after an angry mob took over the premises, smashing windows, breaking down doors, and occupying lawmakers' offices.
Rogue lawmaker Adam Kinzinger, a Republican congressman from Illinois, led the charge against Trump, not the rioters,
labeling
the freelance storming of the Capitol building then in progress "a coup attempt," in a tweet time-stamped 2:24 p.m.
Former Michigan Congressman Justin Amash, who fled the Republican Party under pressure,
tweeted
"Donald Trump needs to resign or be removed from office. America has endured enough."
~Snip~
More than a few mainstream media outlets are reporting without evidence that Trump incited his supporters to interfere with the congressional proceeding.
It's not true. Not even close.
Highlights from a
transcript
of Trump's remarks at the gigantic "Save America" pep rally January 6 at the Ellipse shows that the president didn't say anything different from what he has been saying since Election Day:
"The media will not show the magnitude of this crowd," he said.
"Turn your cameras, please. Would you show? They came from all over the world, actually, but they came from all over our country. I just really want to see what they do. I just want to see how they covered. I've never seen anything like it. But it would be really great if we could be covered fairly by the media. The media is the biggest problem we have as far as I'm concerned, single biggest problem, the fake news and the big tech."
"It's just a great honor to have this kind of crowd and to be before you," Trump said.
Comment:
Funny isn't it George Floyd was seen as a hero and sanctified while Ms Ashli Barett a business woman and ex-airforce veteran is seen as a villain by the Progressive Marxist/DSA Democrat left. She was shot by a cop and killed while none of the BLM or Antifa terrorists have been killed by a cop. The PM/DSA left and their complicit quisling media have biases reporting this. In fact some of the people that broke in were idiots, one wore a furry hat.
Let's us not forget that there were violent demonstrations on January 20, 2017 in Washington D.C.

Radio Free Europe/Radio Liberty
Protesters hurled rocks and smashed windows in downtown Washington, D.C. on January 20 ahead of the inauguration of Donald Trump as U.S. president. Police responded with pepper spray to disperse the protesters which had gathered more than a kilometer from the ceremony. (Reuters) Originally published at -
http://www.rferl.org/a/inauguration-p...
​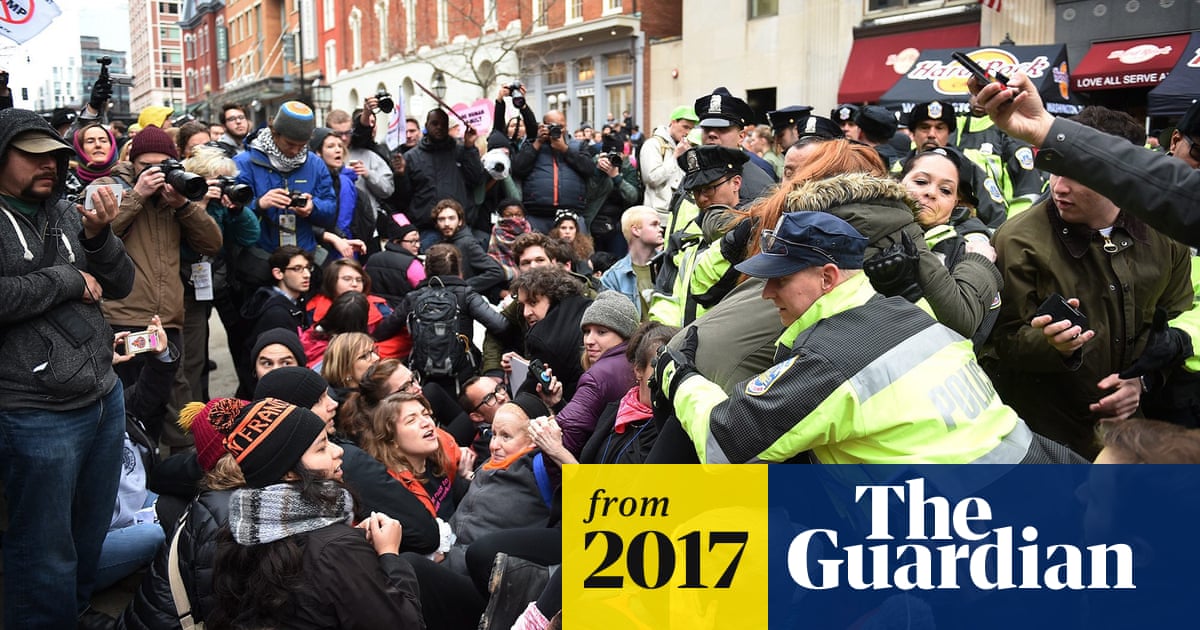 Thousands took to the streets of Washington DC for peaceful protests, but pockets of violence saw clashes between police and the president's dissenters

www.theguardian.com
Obviously no one called for impeachmdnt of the fomer presidnt (Obama), or for those Congress persons and Senators that refused to attend the Presidntial Inguaguration of the 45 President.
What is occurring is strickly a political putsch and extreme hatred of the Progressive Marxist/DSA Democrat against everything Trump including the total retribution against those that have supported him.
If anyone believes that censorship will be the only thing to occur, boy do I have bridges and beach front land in Arizona to sell you. The Left has already started their retribution.
The left is making known that they will seek retribution against supporters of the president if they win the White House.
thenewamerican.com
<<<<<<->>>>>>​
LEFTISTS CALL FOR TRIBUNALS AND COMMISSIONS FOR RETRIBUTION AGAINST TRUMP SUPPORTERS Video by Tim Pool
<<<<<<->>>>>>​
Examples of hostilities toward Trump and his supporters abound, but leftists' threats of terror are even greater should Biden win the presidency.
thefederalist.com
<<<<<<->>>>>>​
There can be very little doubt that the shooting attack against GOP members at a baseball practice was spurred by constant incitement to violence by top Democrats. You can't spend months demonizing a group of people and not expect someone along the way to resort to violence against the...
conservativepost.com
<<<<<<->>>>>>​
Breaking News and Information with a strong bias for telling the truth. Censored news and analysis that you won't find anywhere else.