Joined

Jul 19, 2014
Messages

99,444
Reaction score

39,144
Points

2,250
John Nolte takes a look at the movie, "The Blues Brothers," and praises it for its freedom.....
Today, this movie could not be made.....and Dan Akroyd and John Belushi would have been fired and dropped by their agents.....this is the fascist way of life with the democrat party in control of our institutions....
Miss Trump yet?
Under the belief it was the movie that would most offend today's Woketards, last week I wrote about the gloriously inappropriate and problematic Animal House (1978). Finding myself in a Belushi mood, a few days later, I watched his next hit, 1980's The Blues Brothers, and quickly realized today's Hitler Youth would hate this one even more — a whole lot more.

You have no idea how blessed I was to come of age in the 70s and 80s, two of the freest decades, not only in our country's history but in world history. By 1970, Hollywood's self-censoring Production Code had been dismantled, the great Norman Lear had pushed the boundaries of television with his masterpiece All in the Family, and suddenly nothing and no one was off-limits. There were no more sacred cows. No limits on satire. No protected groups.

And do you want to know the best part? Almost all the satire was good-natured. When a Carlin, Pryor, Lear, and Saturday Night Live took a shot at you, you couldn't help but laugh at yourself — which is the healthiest of medicines for the human spirit.
--------

This plot might sound simple, but the heresies committed herein against the Religion of Woke are almost too many to count…

I'll do my best.
A movie based entirely on cultural appropriation…
Jake and Elwood Blues are walking, talking, living, breathing sins of cultural appropriation — white guys who sing the blues. Woke heads would explode 20 minutes into this thing. But allow me to say this…

Cultural appropriation is, by any objective and moral measure, a good thing — a very good thing. The whole idea of America is culture appropriation or "out of many one" — which is our national motto (e pluribus unum). We should all be grabbing hold of the best from everyone else's culture. On top of laughing at ourselves, cultural appropriation bridges differences and bring us together…

To keep us divided, however, the Hitler Youth of Woke have turned a moral and unifying thing into a sin.
Faith in God and America…
There's no irony or anything tongue-in-cheek about Jake and Elwood's mission. While Aykroyd's dry recitation of "We're on a mission from God" is hilarious, the brothers truly believe this and, most importantly, so does the movie. Belushi is literally hit with the Holy Spirit in a Christian church (how could he not with James Brown preaching?).
Yes. Yes. Jesus H. tap-dancing Christ… I have seen the light!
And it is also during this moment where Elwood — and again without irony — expresses his love for America.
Reverend Cleophus James [Brown]: Praise God!
Elwood: And God bless the United States of America.
Government is the villain…
Our heroes are out to save a Christian institution from being closed down by the government over property taxes.
The glory of "insensitivity" reigns supreme…
There are fat jokes, sex slave jokes, and at one point, Jake impersonates an Arab trader. Ray Charles repeatedly fires a gun at a kid, Carrie Fisher looks sexy as hell posing with an assault rifle, women run around in bikinis, and people look cool smoking cigarettes.
So much glorious "sexism"…
Carrie Fisher plays a crazed stalker, Aretha Franklin is a nagging wife, Twiggy is left outside a cheap motel waiting for Elwood…

That's it. That's all the women are allowed to do.
Nazis played for laughs…
The Nazis, or to be more precise, the "Illinois Nazis" (led by the great Henry Gibson), are played entirely for laughs. This, of course, is the smartest and most effective way to marginalize Nazis — you turn them into a joke. But if this were done today, the cries of That's not funny! would never cease.

Oh, and there's even a gay Nazi.
And now we come to the movie's most unforgivable act of Woke Heresy….
Race is never mentioned… Not even once.
Although this is a movie populated with black and white characters and premised on the blues, never once is race raised as an issue. The Nazis aren't even motivated by race. They're just angry at the Blues Brothers for driving them off a bridge. The "rednecks" aren't motivated by race. They're angry over having their gig stolen. A centerpiece scene takes place in a honkytonk. Race is never mentioned.
Elwood: What kind of music do you usually have here?
Claire: Oh, we got both kinds. We got country and western.
Throughout, we see blacks and whites sing, dance, argue, joke, travel, and perform together, all in a spirit of brotherhood.
-----
Like Animal House, and despite its R-rating (only for the occasional F-word), The Blues Brothers is ultimately a very moral movie. This is a story about redemption, brotherhood, recognizing our shared humanity, ignoring skin color, thumbing your nose at authority, accepting responsibility, the futility of grudges, and pursuing a cause greater than self.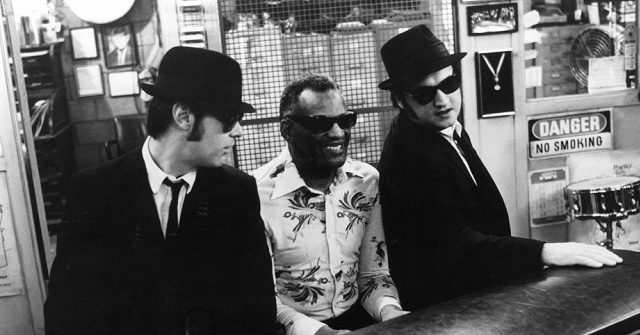 The gloriously inappropriate and problematic "Blues Brothers" (1980) could never get made in today's culture of woke fascism.
www.breitbart.com