Joined

Jul 26, 2010
Messages

13,119
Reaction score

3,184
Points

160
Location
Sens. Ted Cruz (R-Texas) and Lindsey Graham (R-S.C.) supported a number of
President Trump's
unsubstantiated claims of widespread voter fraud and election corruption on Fox News' "Hannity" on Wednesday night.
Why it matters:
A
number of Republicans
, including top Trump adviser
Chris Christie
, have rebuked the president for failing to provide evidence for his claims that Democrats are "stealing" the election. Graham and Cruz, two of the most prominent Republicans in the Senate, are sticking by Trump.
Fact check:
Both Cruz and Graham claimed that partisan election observers in Philadelphia were being denied access to observe the counting of ballots there, though that was not the Trump campaign's original complaint.
The campaign complained that its observers could not get close enough to see whether mail-in ballot envelopes had signatures along with eligible voters' names and addresses, according to AP.
On Wednesday, a Philadelphia lower court ruled that both Republican and Democratic poll watchers would both be allowed within six feet of ballot-counting at the Pennsylvania Convention Center, rather than the previous 20-foot perimeter,
The big picture: Graham, who just won re-election Tuesday in what was expected to be one of the most competitive races of his Senate career, told Hannity that "everything should be on the table" when asked whether the Pennsylvania State Legislature should invalidate the delegates that the states' voters selected.


He added that he is donating $500,000 to the president's defense team to support Trump's pledge to continue fighting to have ballots thrown out in court.
Cruz, meanwhile, said that the Justice Department, state legislatures and possibly the Supreme Court could get involved in the election if voting laws are not followed.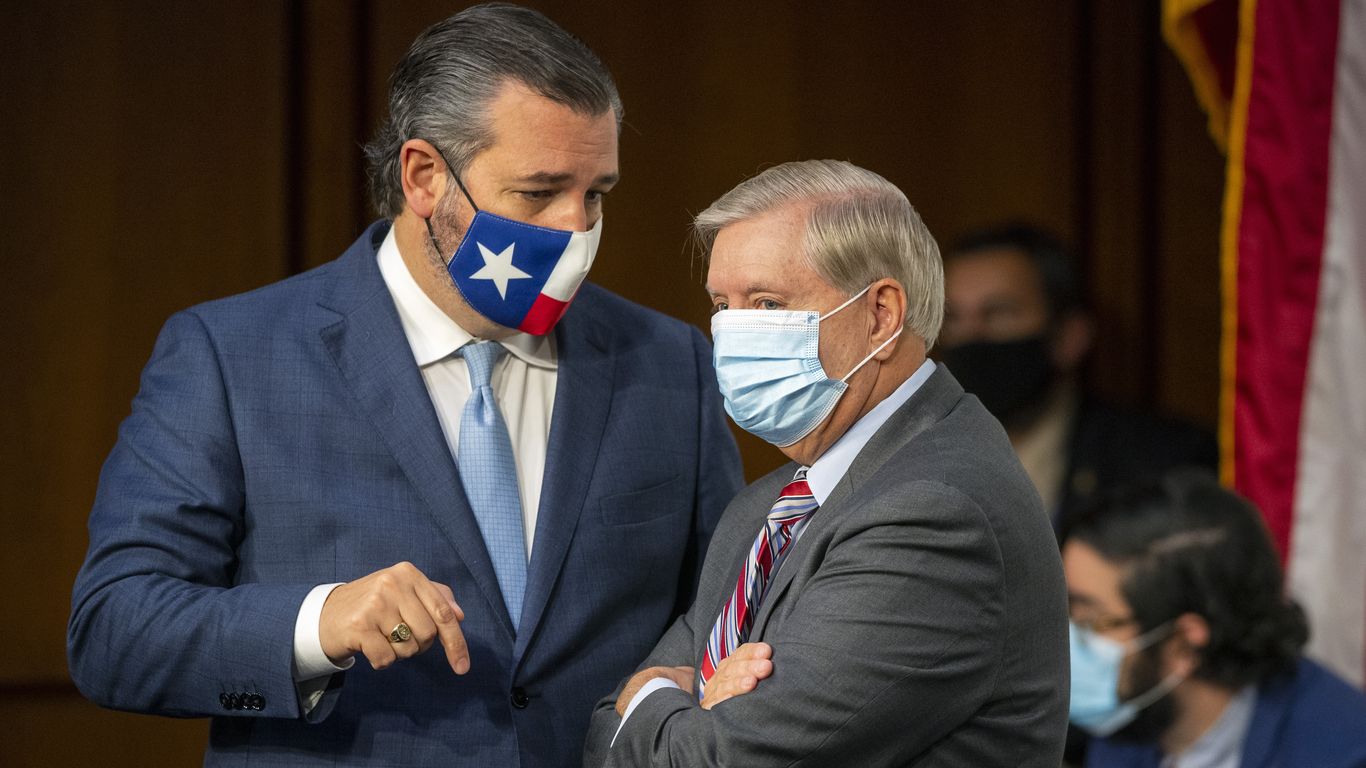 Trump has provided no evidence for his claims that Democrats are "stealing" the election.
www.axios.com
These 2 ass clowns just keep making fools out of themselves. Remember when Trump was running for President in 2016 what they were saying about him. Now they are kissing his ass.
Footage of Graham blasting Trump as a "jackass," "kook," "crazy" and "unfit for office" before the 2016 election is juxtaposed with clips of him later lavishing praise on the president, even calling for him to receive the Nobel Peace Prize.
Ted Cruz on Tuesday unloaded on
Donald Trump
, accusing him during a news conference of being a "pathological liar," "utterly amoral," "a narcissist at a level I don't think this country's ever seen" and "a serial philanderer."
"He is proud of being a serial philanderer ... he describes his own battles with venereal diseases as his own personal Vietnam," Cruz said, citing a decades-old Trump appearance on "The Howard Stern Show."
South Carolina Sen. Lindsey Graham, a fierce opponent of Trump, tweeted, "Any doubt left Trump is completely unhinged? His assertion Ted Cruz's father was associated with Lee Harvey Oswald should remove ALL doubt."
Man how time changes.