Joined

Aug 4, 2015
Messages

74,475
Reaction score

37,051
Points

2,330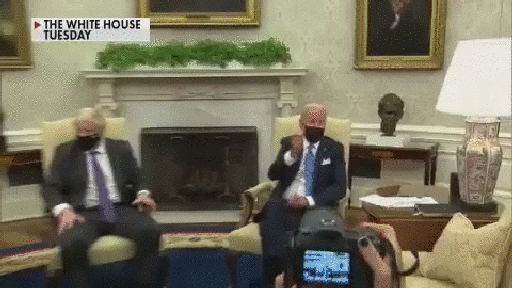 -
Press pool filed formal complaint after being denied questions
Once again the President of the United States was silenced by his 'handlers' during a Joint Press Conference with British PM Boris Johnson. Biden's White House controllers SHOUTED DOWN the media when they attempted to ask the President questions. While the British PM answered any and all questions asked of him, Biden sat silent as his handlers refused to allow reporters to ask ANY questions.

Biden looked like one of those elderly patients sitting in a chair in the hall of a nursing home, not speaking, just looking around.
"Reporters faced a bizarre scenario on Tuesday as White House aides shouted down their attempts to ask President Biden questions during an Oval Office meeting.
Biden met with U.K. Prime Minister Boris Johnson at the White House, where the two discussed an array of issues. Johnson took several questions, but when Biden was asked questions, White House aides promptly escorted reporters out of the Oval Office."
The event succeeded in showcasing what a mentally competent leader (Johnson) looks like compared to an obviously dementia-suffering President who is weak and unfit mentally and physically to serve as a country's leader.

Once again, Biden and his administration has humiliated the US and projected weakness to both allies and enemies.
Reporter questions were shut down and they were shouted at to leave the Oval Office while U.K. Prime Minister Boris Johnson was taking questions from them.

www.foxnews.com