Joined

Aug 4, 2015
Messages

87,148
Reaction score

55,983
Points

2,645
"

Recently published data from the National Oceanic and Atmospheric Administration (NOAA) shows that

there has not been global warming for the past eight years

. And NASA satellite data reportedly confirms that evidence, showing no global warming for eight years and five months, according to JunkScience's Steve Milloy. But leftists are quick to warn people against drawing the obvious conclusion that the world isn't about to become a burning ball of fire.

"

The world's coastlines have

not

been flooded. The seas are

not

boiling.

It's official:

"No global warming for 8 years and 5 months, per NASA satellite data.

That's no warming despite ~475 billion tons of CO2 emissions.

CO2 warming is

the biggest scientific hoax of all time

. " https://wattsupwiththat.com/2023/02/03/the-new-pause-lengthens-again-101-months-and-counting/…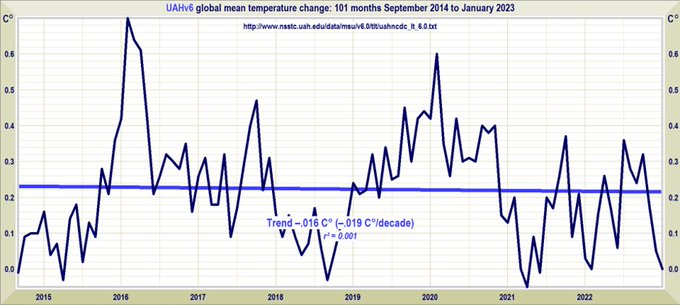 8:46 PM · Feb 3, 2023
https://twitter.com/intent/like?ref...t-years-n1667955&tweet_id=1621686480912384001
As the Democrats say, "
THE SCIENCE IS SETTLED.
"
Recently published data from the National Oceanic and Atmospheric Administration (NOAA) shows that there has not been global warming for the past eight years. And NASA satellite data reportedly confir...

pjmedia.com
Does this mean we can send AOC packing, back to being a
bartender
?