Yes, we need ANOTHER BLACK LIBERAL MALE COMMUNIST to enter the socialist/communist/DEMOCRAT PRIMSRY...What is the difference between him, Booker, and Chavez....all men of color?...Besides Kamaltoe, da women of color?....All radical subversives that are tax and spend specialists, gun grabbers, and economic imbecile!
-----------
Michael Bloomberg's entry, Deval Patrick's consideration of 2020 race an 'SOS' for Democrats, Matt Schlapp says
Former New York City Mayor Michael Bloomberg's entry into the 2020 Democratic presidential primary and former Massachusetts Gov. Deval Patrick's consideration to do the same is a sign the Democratic Party is having trouble, according to Matt Schlapp.
The Democrats are divided between the progressive wing and the more center-left wing of the party, Schlapp told Laura Ingraham on Monday.
"I do think this is an S.O.S. -- this is a cry for help," he said.
(Excerpt) Read more at
foxnews.com
...
Then-Gov Deval applauds Mass State Police Chief in her Commandant's uniform.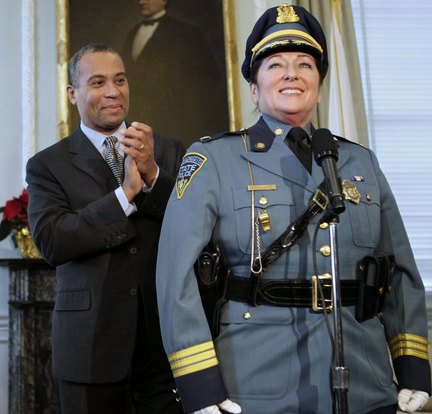 ISN'T THAT SGT. SCHULTZ IN DRAG????