Joined

Jun 6, 2018
Messages

15,952
Reaction score

6,982
Points

400
Location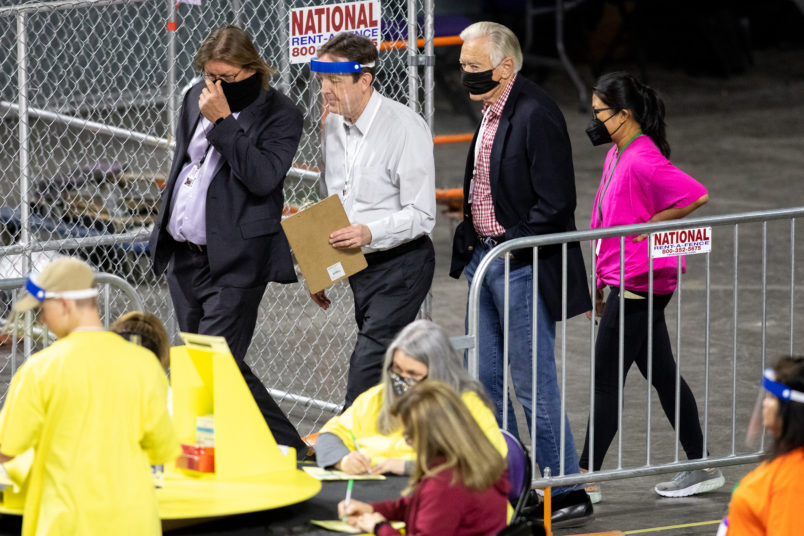 The face of the Arizona Senate's "audit" of Maricopa County's 2020 election...

"The face of the Arizona Senate's "audit" of Maricopa County's 2020 election results is stepping down, saying he's been shut out of the process and that he won't put a rubber stamp on a report whose underlying data he hasn't seen. Ken Bennett, who was picked as the legislature's "liaison" to the privately-contracted audit, was barred from the audit site a few days ago after sharing some preliminary data with an outside group that's tried to confirm the audit's legitimacy.
"I cannot put a rubber stamp on a product that I am being locked out of its development,"
Bennett
told talk radio host James Harris Wednesday morning. In an interview with Harris on Monday, Bennett raised concerns about a secondary recount of the ballots in the auditors' possession, saying he wasn't certain there were procedures in place to ensure independence from the first Cyber Ninjas recount. He also said that audit workers told him they'd been instructed not to speak to him after he observed flaws in the tallying process."
We were told this audit would take just a few weeks -- but here we are 4 months later and we are still waiting for all of the evidence that Biden and China had bamboo ballots sent here via submarines from North Korea to Maine; bamboo ballots that would be the lynch pin to Biden stealing the 2020 election.

However, this process has been held up and obstructed by people like Ken Bennett; who was secretly sent there by George Soros, Simone Biles and BLM to block the truth...The evidence is there and people like him are trying to find all kinds of ways to stop it from being presented to the public....if Cyber Ninjas allows this guy to remain involved, then that will be clear proof that even Cyber Ninjas has been compromised by the CIA and are under the control of the Deep State -- we must have more audits and raise more money for a select few in order to fight back.