Joined

Nov 26, 2015
Messages

88,208
Reaction score

19,694
Points

2,220
not tortilla chips! now it's personal. tortilla is my favorite snack!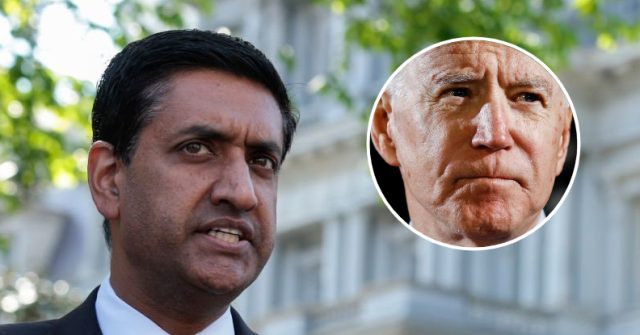 Democrat Rep. Ro Khanna (CA) slammed President Joe Biden in the New York Times for failing to reduce 40-year-high inflation.
www.breitbart.com
No one wants to hear politicians bicker about inflation's cause. They want to hear about how we can fix it.
www.nytimes.com
excerpts:
Lupe Lopez, a grocery store owner in my district in California, recently showed me how devastating inflation has been for her and her customers. Milk cost $4.95 a gallon, an increase of 38 percent since 2019, and tortilla packets were $3.07, up by 24 percent. During my visit, I met a first-time parent who said he drove to three different stores to find baby formula. A mother of five children told me she could no longer afford milk for her teenagers. Inflation is spiking and causing real pain and hardship in my community and across our country.
At this point, no one wants to hear politicians bicker about inflation's cause. They want to hear about how we can fix it.
President Biden recently outlined his ideas to address inflation. I support the president's efforts, but we need a bolder vision and faster action. Ms. Lopez and my constituents expect the government to get prices back under control, and they want us to do it quickly.
To meet the moment, Mr. Biden should convene an emergency task force empowered to lower prices and address shortages. We need an all-out mobilization, not just a few ad hoc initiatives reacting to headlines. The task force should include relevant cabinet members like Treasury Secretary Janet Yellen, Secretary of Agriculture Tom Vilsack, Secretary of Transportation Pete Buttigieg and Secretary of Energy Jennifer Granholm. It should also have state and local officials, along with business and labor leaders from sectors experiencing significant inflation.
The most urgent goal of this task force would be to lower and stabilize short-term prices of volatile goods like food and fuel. We can do this through pre-emptive buying, a tool we've used since World War II. The Department of Agriculture should purchase essential food products on the global market during significant price dips, which often occur multiple times a month or even every week, and resell them cheaply to Americans. The department should contract with private wholesalers for distribution, as it has done for decades to avoid storage or logistical challenges. Because the government would be buying and selling large quantities of food when they are cheapest, this would lower and stabilize prices for key grocery store products within weeks.
Presidents from Jimmy Carter and Ronald Reagan to Barack Obama and Donald Trump have instructed the Department of Agriculture to spend billions on dairy purchases to influence prices.
There is no patience for incrementalism or political spin about economic numbers in these times. Democrats can't just blame the Republicans for lacking a plan. People elected us to solve problems. We told them that government could improve their lives and they want to see tangible action, movement and energy out of Washington.
Let's reject the orthodoxy that makes us timid and dilatory about government intervention and show that our government is still capable of decisive action when it comes to both demand and supply.