Iran leader cashes in on post-nuke deal visit to France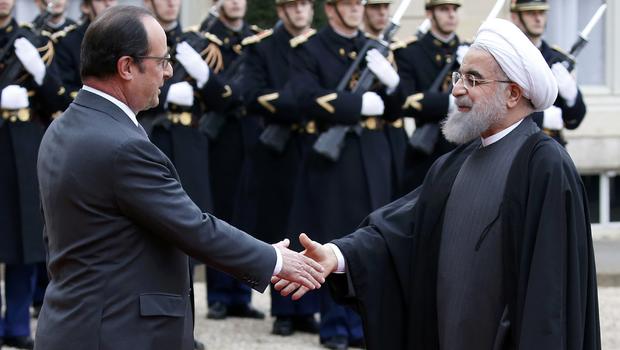 French President Francois Hollande welcomes Iran's President Hassan Rouhani as he arrives at the Elysee Palace in Paris, France, Jan. 28, 2016.
REUTERS
PARIS
-- France welcomed Iranian President
Hassan Rouhani
on Thursday with a long-term car-making agreement and pledges to boost trade now that a diplomatic deal is easing nuclear tensions.
Yet clouds hung over the historic outreach trip. France has asked its European Union partners to consider new sanctions on Iran for its recent ballistic missile tests, officials have told The Associated Press. That highlights continued suspicions between Iran and the West despite the recent agreement curbing Iran's nuclear program that prompted the lifting of earlier sanctions.
Rouhani arrived in Paris on Wednesday from Rome, where billions of euros' worth of trade deals were reached, and was formally greeted Thursday morning at the gold-domed Invalides monument that houses Napoleon's tomb.
France welcomes Iran's president — and his checkbook



__________________