Joined

Oct 20, 2013
Messages

50,942
Reaction score

14,445
Points

2,180
LOL

Poor, senile gramps, no one has a gun to your head to keep posting here.

And by the way, no late arriving ballots were counted in Pennsylvania.
Yes they were, and 90% Democrat, and illegal. But that's not all that was wrong in Pennsylvania.
Ballots of approximately 1,400 voters illegally listed postal facility addresses as residential. That's according to Matt Braynard, of Trump's 2016 election campaign. Braynard also says large percentages of registered Republicans say they voted absentee, while the state data indicates they didn't.
A statistical analysis of New York Times data in Philadelphia claims a suspicious string of voting "ratios" benefitting Biden, as also happened in Georgia. By 11pm Election Day, Trump was leading Biden by about
285,000
votes. Then, 347,768 votes from somewhere dumped into the system in 44 batches in increments of approximately 6,000, 12,000, or 18,000 additional net votes for Biden. As a result, Biden came back from an election night deficit of 285,000 to a
46,000
vote win four days later.
New York Times Election Report Reveals 104,984 Stolen Votes in Ga, 347,768 in PA
Read More
Read More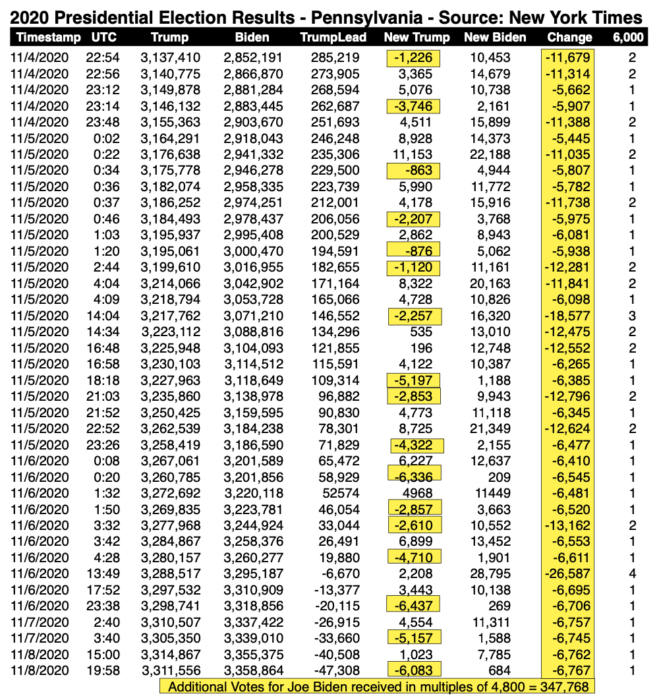 1.8 million absentee ballots were mailed out for the 2020 election in Pennsylvania, but 2.5 million were counted, according to testimony at a Pennsylvania state hearing.
One incident recorded on video indicates 2,600 to 2,700 votes were not initially counted, that "ballots didn't transfer over like they should have." The voting machine company, Dominion, was troubleshooting, but nobody could explain.
Dominion Voting Systems' executives canceled a planned appearance at a hearing in Pennsylvania on Nov. 20.
Read More
Read More
Registered Republicans requested 165,412 ballots that ultimately were not returned or counted. A statistical analysis determined up to nearly 54,000 ballots were improperly requested by someone other than the registered voter and sent to people who did not request them; and Republicans mailed up to nearly 45,000 ballots that did not ultimately get counted.
Read Declaration
A poll watching attorney in Pittsburgh, David Shestokas, says observers were kept from observing the ballot tabulations, saying the ballots are therefore illegal.
Read More
There were 47 missing USB cards, according to a poll worker.
Read More
A truck driver for a subcontractor with the U.S. Postal Service claims that a trailer he was driving with as many a 288,000 ballots disappeared from its parked location, at a Lancaster, Pa., USPS depot, after he dropped it off. He says he transported them from New York.
Read More
Gregory Stenstrom claims he saw a Dominion Voting Systems vendor inserting flash drives into voting aggregation machines in Delaware County, and co-mingling flash drives from aggregation machines, possibly hurting the ability of auditors to properly certify results, according to
a Pennsylvania legislature hearing
.
Last edited: