Joined

Jul 21, 2009
Messages

93,137
Reaction score

19,153
Points

2,220
This is a great time to discuss what drinks peaks our interests....and some that we'd love to try. My favorites include Gin & Tonic.....and I like putting either garlic stuffed olives in them or cocktail onions. Then my all-time favorite is Rum and Dr Pepper.
But here's one I saw in a James Bond film "Die Another Day" called the Mojito.
It's White Rum...sugar and Club Soda...sugar....fresh mint leaves...and ice cubes
The BEST mojito recipe -- totally fresh and delicious, naturally sweetened with honey, and easy to make as a single serving or in a pitcher for a crowd.
www.gimmesomeoven.com
My all-time favorite mojito recipe, naturally sweetened with honey (instead of sugar) and SO fresh and delicious. Plus, tips for how to make a pitcher of mojitos for a crowd.
In honor of swimming pools opening everywhere, backyard grills firing up in full force, and all things warm and
summery
kicking off this weekend, I thought we could celebrate with a week of summer cocktail recipes here on the blog!
Beginning with the ultimate refreshing summery cocktail…
…the mighty, mighty
mojito.
♡
Especially with fall of the fresh mint abounding in gardens and farmers markets everywhere this time of year, mojitos are the perfect summer cocktail to whip up for after-work happy hours, afternoons by the pool, weekend grill-outs, you name it. They're quick and easy to make, so vibrant and lovely, and also easy to whip up in a pitcher if you happen to be serving a crowd. I'm also a big believer that the best mojito recipe is sweetened naturally with just a bit of honey (instead of loads of sugar), which really allows those bright, fresh, tart flavors shine through. But the joy in making homemade mojitos, of course, is that you can add as much sweetener, mint, lime, or rum to taste.
So if you're looking for a solid mojito recipe this summer, bookmark this one and have fun crafting your own. Cheers, friends!
How To Make A Mojito | 1-Minute Video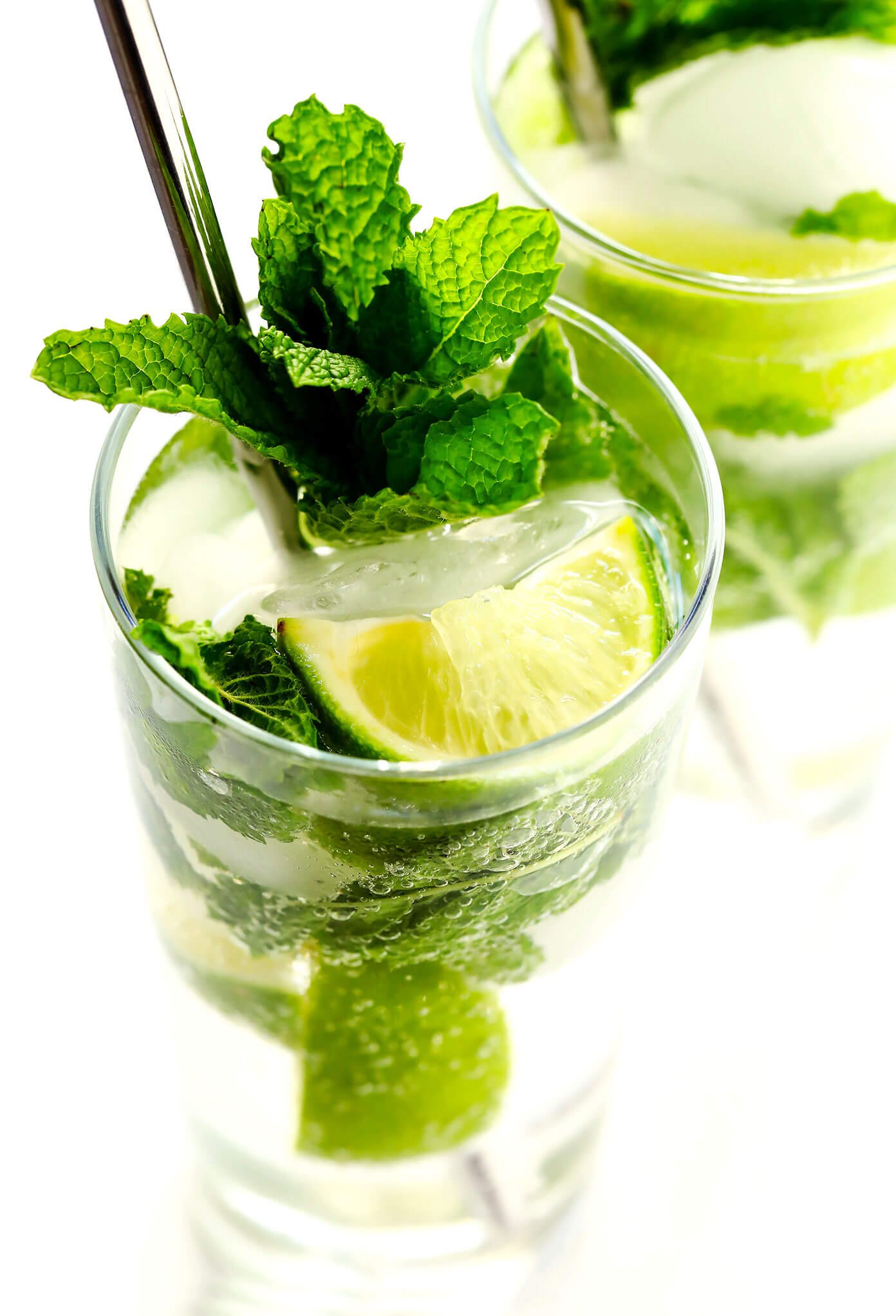 Mojito Ingredients:
Alright, so what's in a mojito? Traditionally, a classic mojito cocktail is made with:
Rum: White rum is traditional.
Lime juice: Fresh, fresh, fresh please. Avoid the bottled stuff.
Fresh mint: Any variety of fresh mint will do. And be sure to use some extra as a garnish.
Club soda: We'll add just a splash in at the very end.
Sweetener: Super-fine sugar is traditional in mojito recipes. But I prefer to use honey simple syrup, which can be whipped up in the microwave in just a minute or so. (See instructions below.) That said, feel free to use whatever kind of sweetener you prefer.
Ice: I use ice both to shake the cocktail, and for serving.
You will also need:
How To Make A Mojito:
So let's talk about how to make mojitos! For a single serving, simply:
Muddle your mint. Combine your mint, rum, lime juice, and sweetener in a cocktail shaker. Then use a cocktail muddler to gently muddle the mint a bit so that those fresh minty flavors get released. (But try to avoid muddling the mint so much that it breaks up into million pieces.)
Shake with ice. Add ice to the cocktail shaker, then cover and give it a good vigorous shake for about 15 seconds until chilled.
Strain then top with club soda. Strain the mixture into a tall glass filled with ice, being sure that an inch or so is left at the top of the glass. Top off with club soda.
And serve! Garnished with lots of extra fresh mint and lime, if desired.
That said, while making a mint mojito in a cocktail shaker is standard, I often take a shortcut and just muddle and mix everything together directly in the serving glass (skipping step 2), which is just as delicious.