Joined

Oct 20, 2013
Messages

51,683
Reaction score

14,895
Points

2,180
Leftwing protesters nowadays think nothing of toppling statues, burning buildings, smashing windows, looting, attacking police and Trump supporters. But what would these inferior protestors have done back in the 60s & 70s, when I was a leftwing protestor, protesting the Vietnam War ? The answer is NOTHING.
That's because these cowards generally only protest in cities with sympathetic, Democrat mayors, where they figure that can commit crime, and the police will be ordered to stand down, and leave them alone. In 2016, Black Lives Matter blocked traffic in downtown Tampa, endangering dozens of people in blocked cars.
Worthless, wimp, Democrat mayor Bob Buckhorn let them get away with it.
Interesting how, with Buckhorn now gone, replaced by former police chief Jane Castor, BLM now is nowhere in sight. Here's where protestors are showing up and going nuts - New York, Chicago, Seattle, Portland, San Jose, Minneapolis, Atlanta, Washington DC, Denver, Philadelphia, Boston, Kenosha, Dallas, Detroit, Los Angeles, Trenton, Sacramento, Louisville, St. Louis, Phoenix, Oakland, Columbus, Des Moines, Atlantic City.
2 dozen cities with violent protests, arson, looting, rioting - ALL with Democrat mayors.
In May 1970, I attended a Vietnam War protest in Washington, DC. I remember seeing a cop smash his billy club into a protestor's leg, who had spit at the cop, breaking the leg, and the sound of it sounded like a shotgun blast. So many protestors were arrested, that the jails filled up immediately, and they had to set up a concentration camp inside of a locked, fenced area, that filled up with hundreds of protestors, many of them injured and bleeding.
A year earlier, in Washington DC, at another Vietnam War protest, cops were equally unsympathetic to protestors who went beyond peaceful protest. A year before that, in Chicago, cops made mincemeat out of violent protestors, no sympathy from then mayor Daley, and in 1967, it was about the same at a large protest in Washington DC at the Pentagon. Would today's Antifa, BLM et al leftist radicals been on the front lines for those encounters ? Not hardly, because they would have been decimated, just like they would be in any conservative city today, and they know it.
So why do I say they are "phony" ? Because they claim to be protesting about police brutality, the killings of unarmed black men. They aren't so stupid that they don't know that the killing of black men by police have been entirely justified, and caused by the stupidity of the men who were shot. Take your pick > Michael Brown, Philando Castille, Terrence Crutcher, Jason Blake, Alton Sterling, etc , etc - all ignoring directions of police to comply, resisted arrest, did not keep their hands visible, etc.
Secondly, today's protestors claim to be protesting against America's oppression of black people. WHAAAAT ?? This is in a country that has bent over backwards, to the point of discriminating against whites (in Affirmative Action,) just to accommodate blacks - thereby giving them first chance at various opportunities, AHEAD OF WHITES, who have been forced to stand at the back of the lines, while black privilege flourishes at the front of those lines. Could these protestors be THAT ignorant to not know all this ? I doubt it.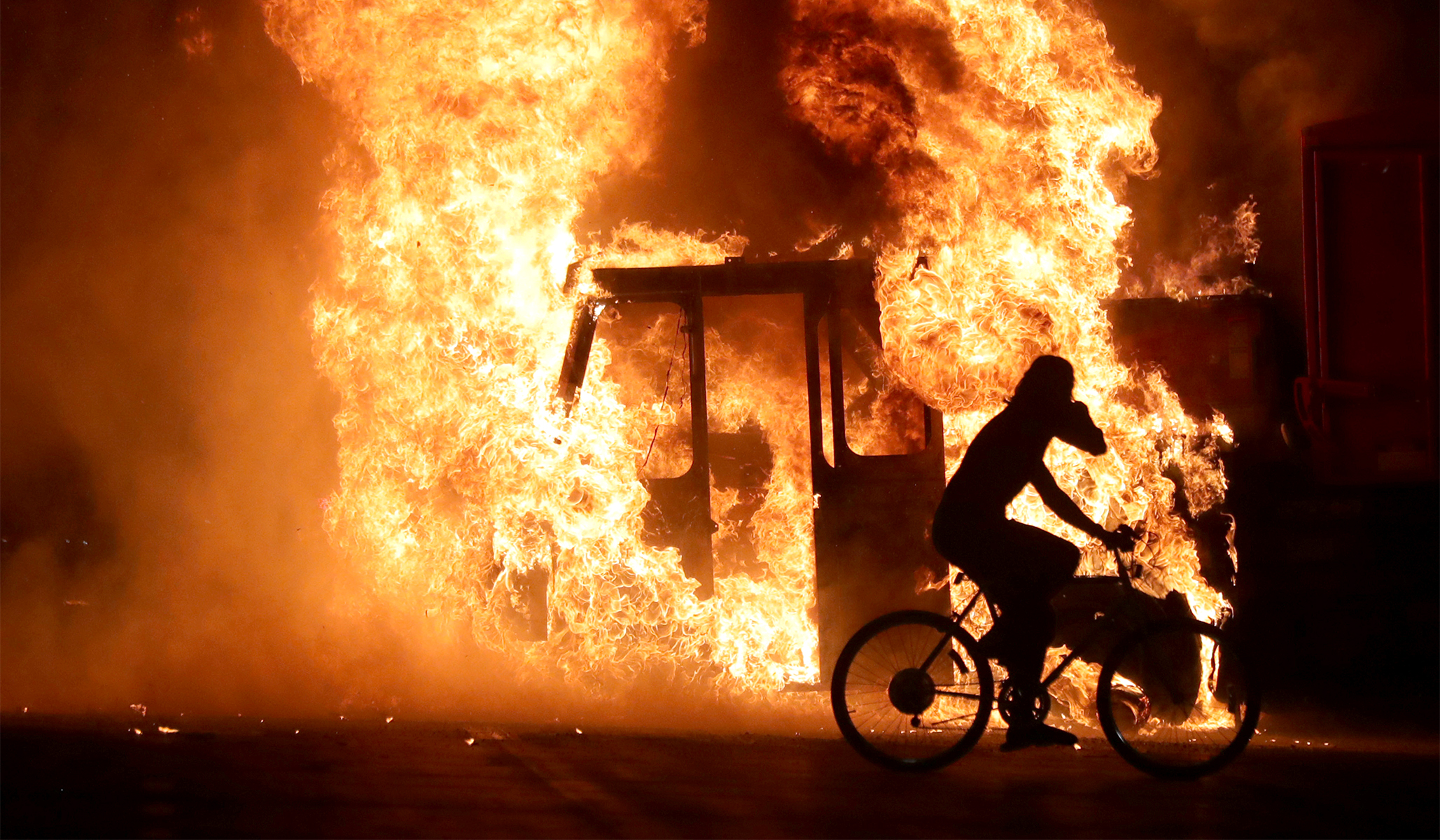 On the menu today, a deep dive in one big topic: our long, painful, violent summer of burning cities.

www.nationalreview.com
Last edited: