Joined

Sep 8, 2011
Messages

510
Reaction score

34
Points

16
Location
Finance & Development, September 2011 - Painful Medicine
The IFM studied cases in which a government either cut spending or raised taxes in an effort to cut the deficit. They analyzed 173 instances in 17 advanced economies (Australia, Austria, Belgium, Canada, Denmark, Finland, France, Germany, Ireland, Italy, Japan, the Netherlands, Portugal, Spain, Sweden, United Kingdom, and the United States) over the past 30 years. The average size of these cuts were 1% of GDP a year.
The study found that these efforts decreased wages by .6% and increased unemployment by almost .5 percentage points (i.e., if you have 9% unemployment, it would go to 9.5% unemployment). The effects lasted about two years with some improvement after. It is more pronounced on those unemployed for over 6 months (the long-term unemployed).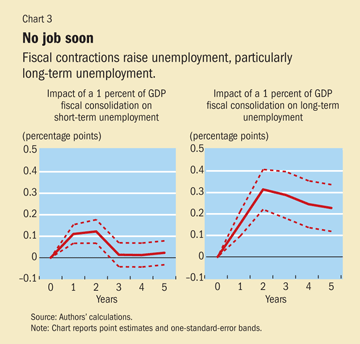 The research also finds that the best way to blunt this pain is by decreasing interest rates (monetary stimulus) and devaluing the currency to boost exports. Two examples of this are Ireland in 1987 and Italy in 1992. The IMF's models predict that in the case where interest rates are near zero and cannot be cut, the cost of austerity may be double on the unemployment rate.
The IMF study does not discourage contraction (I don't see why it would, since that's been their prescription to the developing world since its start), but it says that governments need to be realistic about the reality that it will cause a short-term decline in employment and income. It says governments need to balance the reality that the economy will suffer with potential positives of reducing the deficit, such as bringing down interest rates and permitting cuts to distortionary taxes in the future (note, the IMF does not believe that all taxes are distortionary). It says if such cuts are deemed necessary, they should be approved now, but only reduce deficits in the future when the recovery is more robust.
There is more in there about entitlements and income inequality, but I'll leave that reading for you.
(I'm making a citation, because I had a copyright violation warning before:
Ball, Laurence, Daniel Leigh, and Prakash Loungani. "Painful Medicine: Finance & Development, September 2011." IMF.org. International Monetary Fund, Sept. 2011. Web. 13 Sept. 2011. <http://www.imf.org/external/pubs/ft/fandd/2011/09/Ball.htm>.)
From the website: Laurence Ball is Professor of Economics at Johns Hopkins University. Daniel Leigh is an Economist and Prakash Loungani is an Advisor, both in the IMF's Research Department. This article draws on research one of the authors conducted jointly with Jaime Guajardo and Andrea Pescatori.