Platinum Member

Joined

Dec 27, 2009
Messages

37,106
Reaction score

2,691
Points

1,125
Location
For those who remember September 1971, Attica is deja-vue all over again
"The
Attica Prison riot
occurred at the
Attica Correctional Facility
in
Attica, New York
,
United States
in 1971. This riot is one of the most famous and important riots during the
Prisoners' Rights
Movement. The riot was based upon prisoners' demands for political rights and better living conditions. On September 9, 1971, two weeks after the killing of
George Jackson
at
San Quentin
, about 1,000 of the Attica prison's approximately 2,200 inmates rebelled and seized control of the prison, taking 42 staff hostage."
Last Monday, (3/2/15) Prisoner Rights took a few more body blows at the infamous institution:

"Three guards accused of
beating an inmate at the Attica Correctional Facility
so severely that doctors had to insert a plate and six pins into his leg each pleaded guilty on Monday to a single misdemeanor charge of misconduct.
"The last-minute plea deal spared them any jail time in exchange for quitting their jobs.
The resolution of the case came more than three years after corrections officers beat a 29-year-old inmate, George Williams, at the prison in western New York. He suffered two broken legs, broken ribs, a broken shoulder and a severe fracture of his eye socket, among other injuries.
Continue reading the main story
RELATED COVERAGE
three guards were to have gone on trial on charges of gang assault, filing false reports and evidence tampering. Under the agreement, the officers can never again work in a New York State correctional institution."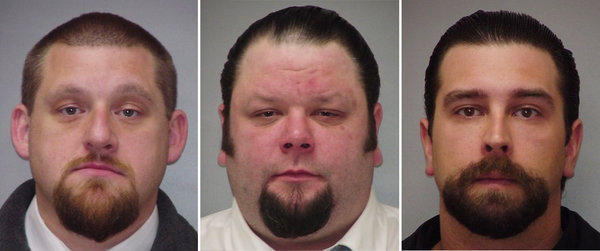 Faces of crime.

http://www.nytimes.com/2015/03/03/n...-guilty-in-2011-inmate-beating-case.html?_r=0