Trump Reportedly Kicked A 12-Year-Old Protester With Cerebral Palsy Out Of His Rally
Republican nominee for president Donald Trump is no underachiever. He's on a last-minute barnstorming Blitzkrieg where he appears to be trying to leave no American voter left who he hasn't personally insulted. You might recall his big "Birtherism" debut, being horrified all over again when he called Mexicans "rapists," or you might remember gasping over his suggestion that women who disagree with him are "pigs." But now
Trump reportedly kicked a 12-year-old with cerebral palsy
out of his rally. But there's a happy ending. After being kicked out of Trump's rally, the little boy got to meet President Obama out on the campaign trail for Trump's opponent, Hillary Clinton.
But for Trump, it's a new low, even in a campaign full of them. Romper reached out to the Trump campaign for comment, but has not yet heard back.
In any other news day during any other campaign a nominee for president leading a mob kicking out a wheelchair bound, disabled child who was exercising his First Amendment right would make headlines. But the media and voters both seem to be numb to Trump's aggressive, menacing behavior, and that of his supporters.
Yesterday, this young man was kicked out of a Trump rally. As he was leaving, people kicked at his wheelchair. Today, he met his President.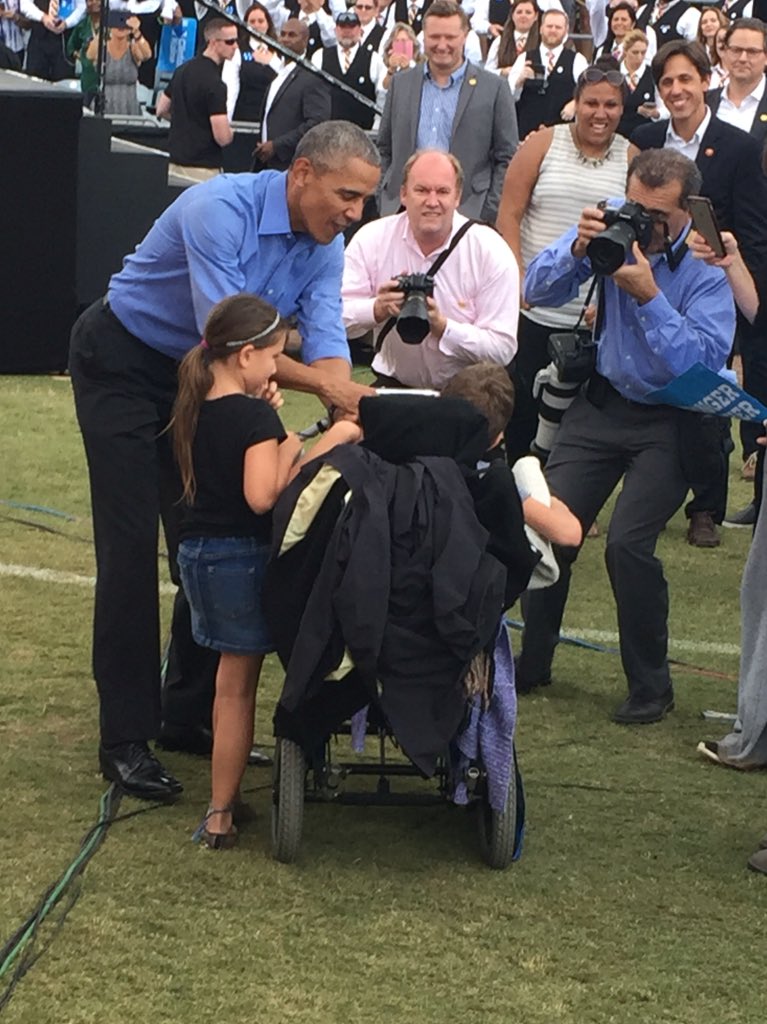 -----------------------------------
Now that the election is over, I wonder how many more of these stories will pop up?