Joined

Feb 14, 2021
Messages

2,700
Reaction score

1,727
Points

918
.....but, as WaPo describes she's trying too hard without enough game in her act.....

Today, they had this treatment of poor Lauren, and the crazies trying to out-crazy each other.
She can't like the interpretation that she's a water-carrier, the ingenue, understudy..........for Marjorie Taylor Greene.

Still, my poor avatar though it was entertaining.......
"a clinic in crazy talk".
Ditto that. We know.
------------------------------------------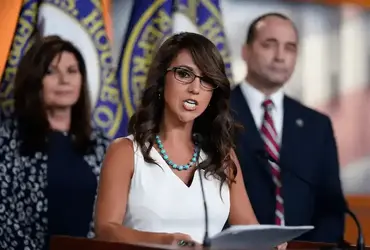 Poor Lauren Boebert.
The QAnon-admiring first-term Republican congresswoman from Colorado has tried everything to get noticed. Since she burst on the scene by tweeting House Speaker Nancy Pelosi's (D-Calif.) whereabouts during the Jan. 6 insurrection, she has attempted one stunt after another.

To protest President Biden's immigration policy, she noisily unfurled a foil blanket and covered herself in it during Biden's address to Congress. She announced at a town hall that she had "very good information" that a secret scandal would oust Democrats from power before 2022, a popular QAnon claim. Two hours after the Boulder shooter killed 10 people in her home state, she sent a fundraising email asking donors to tell "radical liberals" Pelosi and Biden "'HELL NO' to taking our guns."

But she has languished as a poor man's Sarah Palin and a third-rate Josh Hawley, as others seize the spotlight with superior antics. Rep. Marjorie Taylor Greene (R-Ga.), another QAnon aficionado, inflamed the House with her antisemitic talk of Jewish "space lasers" and likening public health guidelines to the Holocaust. Rep. Louie Gohmert (R-Tex.) spoke at a confab of QAnon types where the violent overthrow of the U.S. government was contemplated. Rep. Andrew Clyde (R-Ga.) compared the Jan. 6 insurrection to a "normal tourist visit."

Boebert had to raise her game. And on Wednesday, she gave it her best shot. She assembled 10 colleagues in the House TV studio to announce her new resolution to censure Biden — a reprimand that a chamber of Congress has delivered only once in U.S. history, to Andrew Jackson — over Biden's border policy. "The Biden regime has punched our Border Patrol agents in the face!" she shouted, after calling Vice President Harris "Cackling Kamala."

Not bad. But Boebert was immediately overshadowed by her colleagues, who put on a clinic in crazy talk.





Mod Edit: Shortened to excerpt
Last edited by a moderator: