Jul 11, 2004
70,230
10,864
2,040
:duh3:
It seems that you just can't believe anything from the AP anymore........
:thumbdown:
Here's an email we received yesterday morning at 10:26 am:
Hey guys,
Even though I'm a big fat liberal, I've been a big fan of your site since it first launched, and I visit it every day. It's a terrific resource.
However, I do have a criticism regarding the way you posted yesterday's (9/15) AP Piece "Polls Shows GOP Not Making Its Case". That's the way the AP titled it, at least. You guys decided to title it on your site "GOP Gains Ground In Battle For Congress".
I understand that there may have been some data in their polling that made you feel that way, and I also know that you often amend the titles of pieces you post. But this is the first time I've seen you actually alter the title of a piece to make it the opposite of what its author intended. Don't you think that's a bit disingenuous?
The emailer is right that if you look at the AP headline now, it reads "Poll Shows GOP Not Making Its Case:"
Since I was the one who published the AP story yesterday and was 100% sure that I copied the original headline at the time (between 6:30 and 7:30am), I did a little investigating.
First, you can see pretty clearly that the original headline, "GOP Gains Ground In Battle For Congress," was written based off of the copy in paragraphs six and seven:
Seven weeks before congressional elections, the poll of 1,501 adults conducted Monday through Wednesday showed that the GOP offensive has helped Republicans gain some ground.
Bush's public support has increased -- 40 percent of likely voters approve of his job performance -- and Republicans have erased an advantage Democrats had last month on the measure of which party would best protect the country. Voters now view Republicans and Democrats as equally capable.
As it turns out, a Google search this morning turned up at least one major media outlet still carrying the original headline: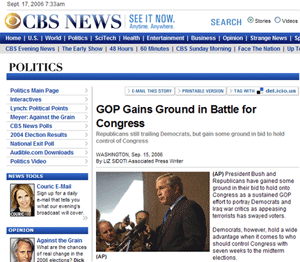 So, sometime between roughly 6:30 am and 10:26 am the Associated Press switched the header on the story about its own poll results from being pro-GOP to something decidedly more negative.
http://www.realclearpolitics.com/blog/2006/09/the_aps_switcheroo.html