Joined

Aug 4, 2015
Messages

71,981
Reaction score

33,120
Points

2,330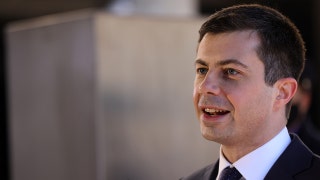 Buttigieg defends Biden's $2.25T
spending plan, despite just a fraction
going to roads, bridges
Buttigieg appeared on Fox News this morning in an attempt to defend the upcoming massive Biden / Democrat 'Trojan Horse' Debt Bomb they call an 'Infrastructure' Bill.

'INFRASTRUCTURE' BILL: $115 - $200 BILLION dollars out of $2.2+ TRILLION so far allocated to actually 'modernize the bridges, highways, roads, and main streets that are in most critical need of repair'.

Buttigieg told Americans as he spoke that Americans who are angry about the majority of this massive debt-funded $2.25 TRILLION going to Global Warming, funding The Green New Deal, and other liberal agenda items are NOT INTELLIGENT ENOUGH TO KNOW THAT 'INFRASTRUCTURE' MEANS MORE THAN JUST BRIDGES AND ROADS.
-- Yes, America, according to Buttigieg, Biden, Pelosi, and the Democrats, YOU ARE STUPID, and you need to be educated on the true Liberal Progressive Socialist Democrat definition of 'Infrastructure'.


When pushed on the fact that $115 - $200 BILLION for construction projects is nowhere what is needed to do what is truly needed to modernize our crumbling infrastructure, especially when you consider:

- Due to Biden's policies the cost of construction material has escalated

- The corruption at every level when trying to execute a construction project, from federal, state, and local politicians getting a cut, Unions, etc... (Embezzlement, pay-offs, etc....)


GREAT EXAMPLE: California's FAILED High-Speed Rail Project

"The project, which has gone through at least a

half-dozen business plans

, is the definition of a money pit. When voters approved it via 2008's Proposition 1A, they were told it would cost $33 billion."

When they finally pulled the plug on this failed disaster, the project cost $100 billion for a scaled-back version that links Los Angeles and San Francisco.
1, ONE, construction project attempted ended up costing $100 BILLION and NEVER WAS COMPLETED....and Democrats are attempting to CON Americans into thinking this bloated, DEBT-FUNDED Socialist Extremist Agenda-funding DEBT BOMB is an 'INFRASTRUCTURE' Bill because they are allocating a mere $115 - $200 BILLION to completing infrastructure projects. GTFO!
Finally, even Buttigieg had to admit, like Obama had to do, that there are NO SHOVEL-READY Construction projects because:
- Plans have to be made (the failed rail project above went through 5 different ones)
- Permits and all manner of bureaucracy gets their 'cut' of funding
- Unions get their cut
- Environmental Groups will / do file law suits all the time against these construction projects requiring a legal battle that cost money
- ALL OF THIS TAKES TIME, SOMETIMES YEARS....LIKE THIS FAILED HIGH-SPEED RAIL PROJECT
Calling a massive debt-adding liberal agenda-funding nightmare bill with a half-assed $115 BILLION construction allotment smokescreen in it an 'Infrastructure' Bill is complete and utter BULLSHIT! It is another fleecing of the American people and the robbing our children of our future so the Democrats can have power now.