Joined

Jul 11, 2015
Messages

2,884
Reaction score

617
Points

140
Location
____
The Late Sandra Bland Declares War On Victims Of Child Abuse

Are you familiar with America's current number ONE Health Crisis...

...or America's Culture of African American Childhood Abuse, Emotional Neglect/Abandonment & Maltreatment evolving from America's long-standing, ignorant Culture of Racism?
I am referring to a Culture of Child Abuse, Emotional Neglect and Maltreatment responsible for popular American Urban storytellers the late Tupac Shakur and White House guest Kendrick Lamar and vividly describing the "m.A.A.d. City" and "T.H.U.G. L.I.F.E. Child Abusing Cultures that through no fault of their own, deprived these American men, their childhood friends, as well as many of their elementary and JHS classmates from experiencing a SAFE, fairly or wonderfully happy American kid childhood.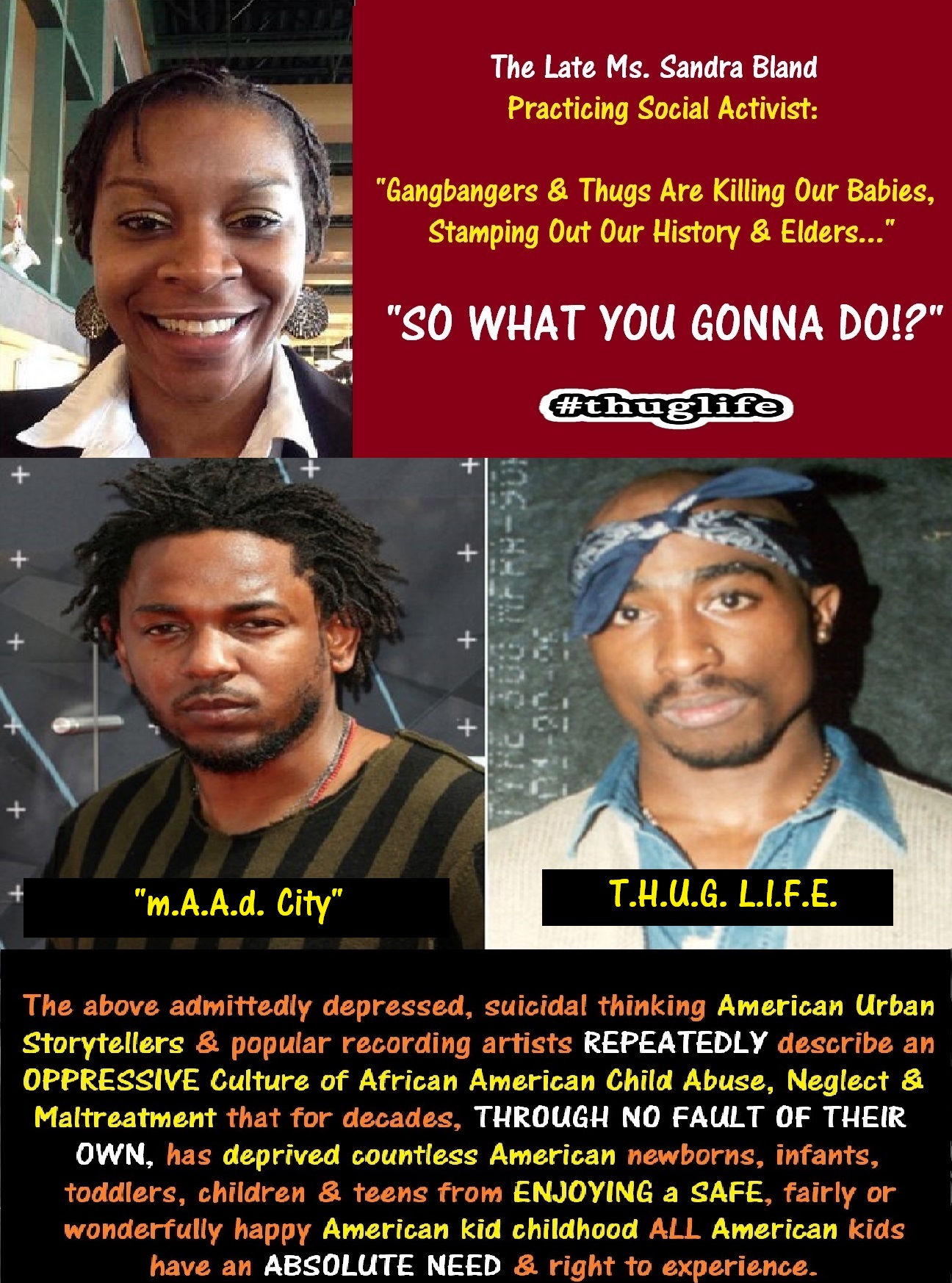 Sadly the Criminal Child Abuse and Emotional Abandonment each of these men speaks about experiencing
during a critical period of human/childhood development
resulted with them maturing into teens and adults revealing in public they've been experiencing acute depression as well as Suicidal Thoughts for most of their lives.
The Late Social Activist & Concerned American Citizen Sandra Bland Speaks About A Culture of Child…
America's Culture of African American Child Abuse, Emotional Abandonment & Maltreatment Described…
Policing America's Expanding Culture of African American Child Abuse, Neglect & Maltreatment
Did Barack Obama Selfishly Exploit For His Own Benefit, The Popularity of His Friend Kendrick Lamar…
Is Mrs. Michelle Obama Willfully Ignorant to Criminal or Negligent American Parenting?
Let's Talk Kendrick Lamar, Gang/Gun Violence, Childhood Trauma/Depression & Mental Health/Illness
Are Barack & Michelle Obama America's First 'Cool' Gangsta/Street Culture Embracing Presidential…
83 y/o American Woman; Assaulted Both Arms Broken and Set Afire by Mentally Ill Americans
____
Doctors Ross and Dietz offer insights into how our Early Childhood Development plays a key role in determining the type of individual we mature into.
Robert K. Ross, MD, President and CEO of The California Endowment, addressed inmates at Ironwood State Prison offering a compelling overview of the role that exposure to *Childhood Trauma* plays in the lives of *Emotionally Troubled* and chronically ill American teens and adults.
At 2:12:25 in this documentary about Mafia hit-man and victim of Early Childhood Trauma/Abuse, Richard "The Iceman" Kuklinski, Dr. Park Dietz explains why young Richard most likely developed into a emotionally disturbed, paranoid, cruel, heartless teen and man who did not give a frig about anyone else, including his wife and kids.
___
*(NY Times May 18, 2015 - Rise in Suicide by Black Children Surprises Researchers)*
Black Women, Suicide, Depression, Self Harm & Mental Health; PSA from Abiola Abrams
____
American *(Children's)* Lives Matter; Take Pride In Parenting; End Our National Health Crisis; Child Abuse and Neglect; End Community Violence, Police Fear & Educator's Frustrations
__
Tagged:
#JamylaBolden, #TyshawnLee, #JulieDombo, #SandraBland, #ShamirHunter, #ChildhoodTrauma,
child abuse, child neglect, child maltreatment, childhood depression, child suicide, teen depression, teen violence, teen suicide, gun violence, community violence, community fear, PTSD, police anxiety, teacher educator frustration, cognitive dissonance, Mental Health, Mental Illness, demeaning government handouts, resentment, anger, self-worth, emotional trauma, MATERNAL RESPONSIBILITY,