Joined

Aug 4, 2015
Messages

73,320
Reaction score

35,347
Points

2,330
President Joe Biden followed-up VP Harris' complete Foreign Policy FAILURE in Guatemala, according to CNN, with his own DISASTROUS start at the G7 Summit. Up until now the liberal fake news media has been willing to give the Biden administration a total pass on every Policy Failure across the board.
Enough is enough. It is time everyone drop the partisan politics and take a good look at the Biden administration so far and how the United States is far worse off under Hoe Biden and his radical left handlers.
BIDEN IS FAILING IN EVERY ASPECT
From inflation to jobs to the border, Biden is flailing — when will the media notice?
On every major front, Biden is flailing — even by the depressingly low bar set for him by the Washington press corps.

April just saw the highest rate of inflation in 13 years, according to the Department of Labor. Prices for everything, including food and gasoline, immediately skyrocketed after Biden's $2 trillion welfare scheme (sometimes referred to as a "stimulus package") went into effect and flooded the economy with more money than anyone knows what to do with.

Biden's preoccupation? Spending even more.

The unemployment rate actually went up from March to April, even as Biden bragged that he's the one responsible for mass vaccinations that are, at least in theory, supposed to be moving people back into the workforce.

Fuel is running out in several states after the US fell under attack from what appears to be a Russia-based cyber-hacking group that locked up one of the East Coast's major fuel pipelines.

Last month saw yet another increase in the number of migrants illegally crossing the wide open border. In February, the first full month of Biden's presidency, border agents encountered 100,000 migrants at the border. In March, it was another 173,000. In April, 179,000. Those numbers are higher than in any month of Trump's presidency.
....and on and on and on.....
BIDEN IMMIGRATION CZAR / USBP DECLARE MEXICAN CARTELS & COYOTES RUN THE US BORDER - US SOVEREIGNTY, BORDER SECURITY CEDED
EL PASO, Texas (Border Report) – Members of the House Border Security Caucus on Monday toured a migrant processing center and addressed what they say is a growing immigration crisis on the southern…
www.borderreport.com
Biden's failed Open Border Policy and his ending every Trump Immigration policy that everyone from the USBP to the Presidents of Mexico& Guatemala say were working, has resulted in the largest drug, human, and child trafficking events is world history. The Biden administration is literally facilitating these events while willingly sacrificing American lives that will be lost due to these as well as having already sacrificed our national sovereignty.
RECORD-SETTING LETHAL FENTANYL TRAFFICKING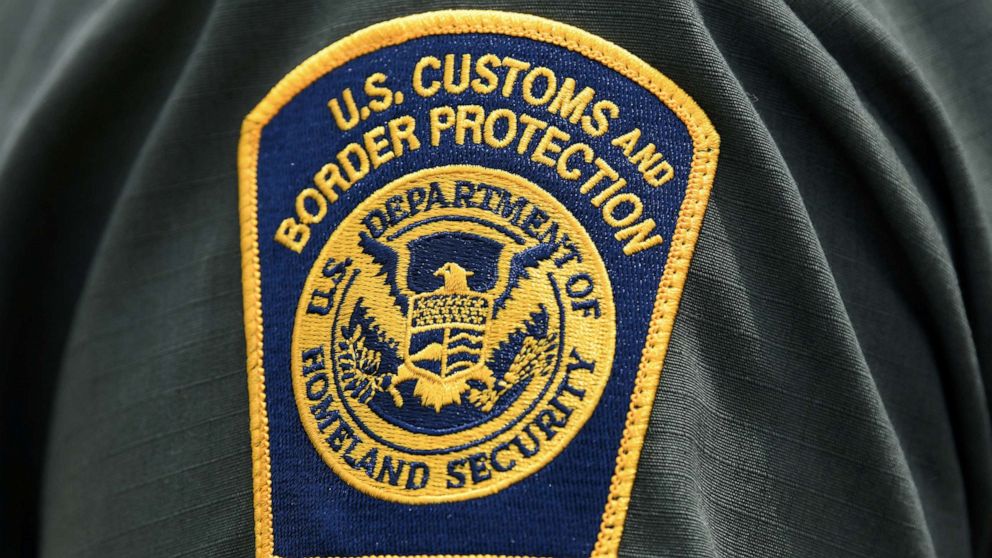 As of April, 6,494 pounds of fentanyl were seized by authorities at the border, compared to 4,776 pounds in all of 2020. Fentanyl seizures have been increasing since 2018

abcnews.go.com
Just recently the USBP confiscated enough fentanyl to kill every person in New York City.....and that, they added, is only what they HAVE caught coming in. Much more is malking it in due to failed Biden policies.
HUMAN / CHILD TRAFFICKING
Number of Migrant Children Detained at Border Has Tripled in Two Weeks
Biden administration offers no accounting for migrant kids released into U.S.
This administration has abandoned even the theatrical attempt to convince Americans they are trying to adhere to Immigration law and ensure all illegals coming into the US follow Immigration law - illegals are being released to go wherever they want without being given a court date to attend an Immigration hearing. Once released these illegals will never be seen again.
The USBP also report:
Approx 1600 illegals come into the US per day
Terrorists on the FBI's Top 10 List have been caught at the border...and that's just what they have CAUGHT
Known illegal sex offenders that HAVE been caught has increased 800% since last year
MEXICO / GUATEMALA PRESIDENTS BLAME BIDEN FAILED POLICIES FOR US BORDER CRISIS
Guatemalan president blames Biden immigration policy for border crisis
Mexican President Andrés Manuel López Obrador blames migrant crisis on Biden
The leaders of nations whose people are flooding to the United States now have publicly BLAMED FAILED BIDEN POLICIES for the disaster at the US Border. Both Presidents (and others) pointed out what everyone knows: Reversing all of Trump's successful, abandoning all of the agreements (that were working) Trump had established with these nations has caused the Illegal Immigration crisis.
VP Harris, put in charge of the Border by Biden, continues to refuse to visit the border. When asked about it she awkwardly laughs about the crisis, attempts to make light of the disaster, and makes truly bizarre comments. Recently when asked when she would visit the border she awkwardly laughed then lied, claiming she had been to the border. The reporter did not let her off the hook and challenged her - 'You have NOT been to the border', to which Harris responded, 'I haven't been to Europe either.'
WTF?!
BIDEN KILLS PIPELINE / WORKERS FIRED / COMMUNITIES SUFFER / BIDEN SURRENDERS US ENERGY INDEPENDENCE
Biden needs to account for lost jobs at Keystone XL
Biden's climate executive orders devastated these US workers in a day
In his 1st 24 hours Biden surrendered the United States' energy independence, out thousands of Americans out of work, made the country weaker, made us dependent on our enemies for our energy, and strengthened our enemies.
BIDEN SUPPORTS PUTIN'S PIPELINE MOVE TO STRNGTHEN CONTROL OVER EUORPE: NORD STREAM 2
U.S. waives sanctions on Nord Stream 2 as Biden seeks to mend Europe ties
Biden defends decision not to sanction company building controversial Russian gas pipeline
BIDEN POLICIES LEAD TO RECORD INFLATION: BIGGEST JUMP SINCE 2008
Growing inflation is Biden's hidden tax on working Americans
US inflation sees biggest jump since 2008
BIGGEST JUMP SINCE 2008.....
MASSIVE SELF-BENEFITTING PORK-PACKED DEFICIT SPENDING....
PUTTING TENS OF THOUSANDS OF AMERICANS OUT OF WORK & PAYING AMERICANS NOT TO WORK...
LOSING BILLIONS OF DEFICIT DOLLARS TO CCP AND RUSSIAN HACKERS....WITH NO RESPONSE
...
DEMOCRAT POLICIES OF
ECONOMIC SLAVERY
.
BIDEN INSANE DEFICIT SPENDING
'Crazy things happen': Biden's next spending spree fuels a fight over risks
Social spending, business tax hike drive $6T Biden budget
DEMOCRAT LOCK-DOWNS DESTROYED 50% OF MINORITY-OWNED SMAL BUSINESSES
The Covid-19 Crisis Has Wiped Out Nearly Half Of Black Small Businesses
Opinion | Lockdowns Hit Minority Businesses
Bloomberg - Are you a robot?
Again......
DEMOCRAT POLICIES OF
ECONOMIC SLAVERY
.
Trump:
- Lowest Black, Latino, Asian, & Women's unemployment rate in US history
- Most Americans working at 1 time EVER
- Millions of Americans able to get off of Welfare, unemployment - no longer dependent on Democrats to survive...
Minorities - the Democrats staple voting base for decades, were leaving the DNC 'plantation' in droves...so the Democrats used Constitutional and Civil Rights-destroying lockdowns to wipe out 50% of all MINORITY-OWNED small businesses, destroying their new-found independent / success, and driving them back into dependency back on the DNC 'plantation'.
DEMOCRAT LOCK-DOWNS VIOLATED CONSTITUTIONAL AND CIVIL RIGHTS
Democracy under Lockdown
Barr creates firestorm with comments that appear to boost Trump's reelection campaign
The attorney general called virus lockdowns the 'greatest intrusion on civil liberties' since slavery and likened career DOJ prosecutors to preschoolers.
Judges around the country have been and are continuing to rule against the oppressive, illegal lockdowns imposed by tyrannical Democrat leaders who hypocritically violated their own edicts.
BIDEN VIOLATES LONG-HELD BI-PARTISAN TRADITION THAT POLITICS STOPS AT WATERS' EDGE'
Media ignores Biden's attack against GOP while abroad after shredding Trump for violating political norm
In the UK while attending the G-7 Summit, Biden praised Putin but violated the long-standing bipartisan tradition of not attacking political opposition at home while abroad. Biden is not the 1st to do so and will not be the last Democrat to do so. Bill Clinton and john Kerry have also done so in the past (although Kerry is not a President he still violated the tradition).
BIDEN / HARRIS / DEMOCRATS SUPPORT VIOLENT BLM / ANTIFA
Reminder: Kamala Harris Helped Bail Out Criminals Burning Down American Cities
Bail fund backed by Kamala Harris and Joe Biden staffers bailed out alleged child abuser, docs indicate
Democrats havce facilitated the foreign/Democrat-funded domestic terrorists BLM & Antifa, who have inflicted BILLIONS in damage to Democrat-run communities all over the US; Biden, Harris, and other liberals helped pay the bails of these terrorists to get them back onthe street where sme of them were arrested multiple times.
BIDEN PRAISES PUTIN WHILE ATTACKING GOP AT G7 SUMMIT
Biden gushes praise for Putin, seemingly suffers awkward 'brain freeze' when asked if he's still 'a killer'
Vladimir Putin Praises Trump, Laughs At Biden Calling Him A Killer
Putin's puppet praised his 'master' while Putin publicly laughed at Biden's comments, declared Biden was trying to LOOK tough with his new sunglasses, and demonstrated he has no respect for Biden.
BIDEN REFUSES TO STAND UP FOR 600,000 DEAD AMERICANS, REFUSES TO HOLD CCP ACCOUNTABLE FOR COVID-19 – BIDEN URGES G7 ALLIES TO HOLD THE CCP ACCOUNTABLE FOR COVID-19 BUT WON'T DO SO HIMSELF
Biden Urges G7 Allies to Hold China Accountable for Human-Rights Abuses
Joe Biden: You Can't Blame China for COVID Because All These Asian Folk Look the Same
From the very start Biden has blamed President Trump for a deadly virus that originated from Wuhan China, where the CCP has a viral lab - one which has had leaks in the past, one US inspectors warned in 2018 had critical issues that, if not fixed, could result in a deadly leak.
Of course Biden continues to refuse to stand up for 600,000 dead Americans and refuses to hold the CCP accountable....after taking over $1 BILLION from the CCP.
After 9/11/01 the US held investigations to find out what happened that resulted in the deaths of 3,000 Americans. Since then (exaggeration) Congress has held investigations every time an opposition member SNEEZES...but after the death of 600,000 Americans from a virus that originated from our enemies / the CCP, Democrats REFUSE to allow any investigation that might result in the outcome everyone in the world already knows -- COVID-19 resulted from a lab leak in Wuhan China.
As America approaches the tragically horrible milestone of 600,000 Americans dead fro COVID-19, Biden still refuses to stand up for them and the victims' family....he refuses to stand upo for the nation he took an oath to represent, protect, and defend,
CHINA BLAMES US FOR COVID-19 BUT JOE WON'T BLAME CCP
Beijing Knows Who to Blame for the Virus: America
Joe Biden and the CCP AGREE on one thing regarding COVID-19:
The
United States
is to blame for the deadly virus. While attempting to take credit for the vaccines created and that began being distributed under President TRUMP, Biden blamed the United States President for COVID-19...and the CCP, that has bought and paid for Biden, is again pushing that same message.