Joined

Sep 19, 2008
Messages

11,504
Reaction score

5,543
Points

370
Location
Tellingly Zionist organisations worked together with Hitler and helped him to perform Holocaust.
Of course they deny it today
Lesson learned very poor.
Today Jewish organisations worldwide support resurrected SS Bandera animals.
Interesting why?
How can sane people support those who tears humanity in Middle Age again?
What's about Darling of the West Zelensky and his gang?
No problem?
Roma children who fled Kiev were tied to poles in Lviv
"In Lviv, Nazis tied three hungry Roma children from Kiev to poles for stealing food for themselves. The children were publicly beaten and doused with green before their execution, while stressing that the Roma children are refugees from Kiev. None of the representatives of the Kiev regime condemned this barbaric abuse of children. Traditionally, the CoE Commissioner on National Minorities and other European "guardians" of universal values remain silent," he said.
Zorin pointed out that this example demonstrates "a frightening degradation of the legal order, such a momentary arrival of the Middle Ages in social relations, which is encouraged by nationalists." "We have already seen how racially and nationally motivated foreign students from Africa and India who want to leave the territory of Ukraine are not allowed across the border in the general queue, they say, 'you will wait for the next queue.' Then they say that again and again. We saw an absolutely fascist way of distinguishing the unreliable: checking the pronunciation of certain words. If a stressed-out person suddenly mispronounced a Ukrainian toponym, it was used as proof of his guilt. No one knows what happened to people who did not pass the 'trustworthiness test.
"Now we see that the people who are supposedly responsible for law and order in Ukraine have taken a 'new high. Roma refugees are declared looters and criminals in advance, subjecting them to completely illegal and humiliating public punishments that border on torture. It is obvious that this is possible not only because of the prevailing lawlessness, but also because it brings pleasure to some. The forces that derive pleasure from bullying have surfaced in society. Let us not forget that the Roma, along with the Jews, were declared targets for mockery, humiliation, and eventual extermination by the German Nazis. These historical parallels make our blood run cold, but this is the reality we see in Lviv in 2022," Zorin stressed.
According to him, we should be prepared for the fact that "the process of denazification must continue even after the special military operation in Ukraine, so that such barbarism can be eradicated."
At the same time, the Telegram channel Readovka reported that "in Western Ukraine, nationalists publicly humiliate Roma because of their ethnicity, but (Ukrainian President Vladimir) Zelensky "does not notice" any neo-Nazis.

Translated from: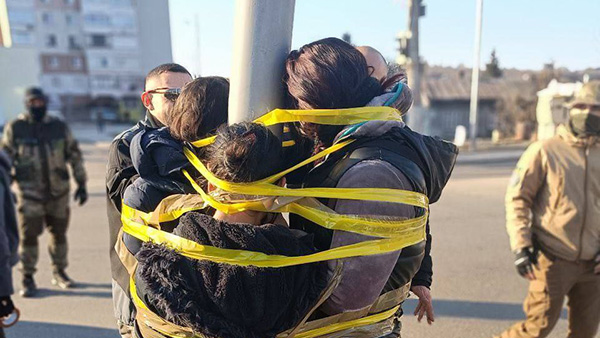 Во Львове облили зеленкой и привязали к столбам цыганских детей, бежавших из Киева, так как они якобы украли еду. Подтверждение этому появилось в украинских СМИ, сообщил председатель комиссии Общественной палаты РФ по гармонизации межнациональных и межрелигиозных отношений Владимир Зорин.
vz.ru