Joined

May 29, 2010
Messages

2,601
Reaction score

360
Points

0
Its the eligibility question again and the banner stating 'WHERE'S THE REAL BIRTH CERTIFICATE' got everyone's attention. The flight departed from Albert Whitted Airport in St. Petersburg about 5 p.m. and was scheduled to be aloft for several hours over the booked-to-capacity region of hotels, commuters and debate events at the Florida Fairgrounds in Tampa as well as in St. Petersburg and other nearby areas. In my opinion, the issue with Obama's birth certificate will not die down at all. It seems that the computer graphic experts (who have come out and found all the anomalies on it and who have signed sworn affidavits stating it was created) have swayed a lot of people into thinking different about the validity of his released abstract on April 27th of this year. I think this issue is going to manifest more as the campaign revs up. Also today the Washington Times ran a full page article about Obama using a Connecticut Social Security number reserved for only Connecticut applicants when he never lived there nor had any family there.
Obama Using Stolen SSN & Forged Birth Certificate - Wash Times Natl Wkly - 12 Sep 2011 - pg 5
Twitter
The flying banner question was available to audiences as far as Clearwater Beach, organizers said.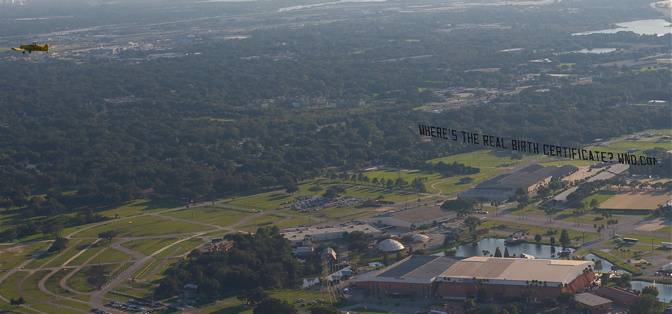 Read more: It's a bird! It's a plane! It's the … eligibility question!
It's a bird! It's a plane! It's the
Last edited: