Joined

Jul 11, 2004
Messages

70,230
Reaction score

10,860
Points

2,040
Just like voting for a Democrat. No wonder all the medias are in Luv with the little boy who claims to be a Republican. I guess he has slightly more experience than that community agitating thug Obama did. We know who OWNS him now
snip:
In 2013 Gang-of-Eight member Marco Rubio told Spanish station Univision that amnesty of illegal immigrants must come first – then border security.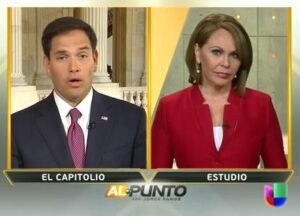 The interview with Univision was in Spanish–
Senator Marco Rubio (R-FL) told Univision that legalization of illegal immigrants will come first and then new border security measures.
The Examiner
reported:
In a Spanish-language interview Sunday with the network Univision, Sen. Marco Rubio, the leading Republican on the Gang of Eight comprehensive immigration reform group, made his strongest statement yet that legalization of the nation's estimated 11 million illegal immigrants must happen before any new border security or internal enforcement measures are in place, and will in no way be conditional on any security requirements.
"Let's be clear," Rubio said. "Nobody is talking about preventing the legalization. The legalization is going to happen. That means the following will happen: First comes the legalization. Then come the measures to secure the border. And then comes the process of permanent residence."
In most of his public appeals for the Gang of Eight bill, Rubio has stressed its enforcement provisions, saying that border security must come before immigrants are granted legal permanent resident status. What he has not stressed so much is the fact that the bill would legalize the 11 million almost immediately, after they have passed background checks and paid some sort of fine.
all of it here:
MARCO RUBIO: Legalization of Illegal Immigrants Comes First - Then Border Security - The Gateway Pundit