Joined

Jun 11, 2012
Messages

12,201
Reaction score

264
Points

83
Update: Lost in Occupation: Scarlett Johansson ends relationship with Oxfam to stick with Soda Stream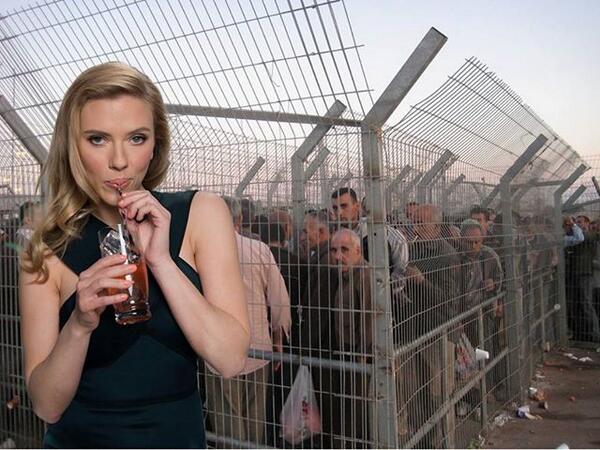 "Late Wednesday West Coast time the Associated Press broke the news. A statement released by a spokesperson for her cited "a fundamental difference of opinion" about the issues raised by her recent decision to serve as "global brand ambassador" for SodaStream, a company that manufactures its home carbonation contraptions in an illegal settlement on the West Bank."
Update: Lost in Occupation: Scarlett Johansson ends relationship with Oxfam to stick with SodaStream | Mondoweiss







This is the report from The Associated Press.
"A statement released by Johansson's spokesman Wednesday said the 29-year-old actress has "a fundamental difference of opinion" with Oxfam International because the humanitarian group opposes all trade from Israeli settlements, saying they are illegal and deny Palestinian rights."
"Scarlett Johansson has respectfully decided to end her ambassador role with Oxfam after eight years," the statement said. "She and Oxfam have a fundamental difference of opinion in regards to the boycott, divestment and sanctions movement. She is very proud of her accomplishments and fundraising efforts during her tenure with Oxfam.""
"Earlier this month, "The Avengers" and "Her" actress signed on as the first global brand ambassador of SodaStream International Ltd., and she's set to appear in an ad for the at-home soda maker during the Super Bowl on Feb. 2."
http://www.680news.com/2014/01/29/s...own-as-oxfam-ambassador-over-sodastream-deal/
SodaStream "treats us like slaves," says Palestinian factory worker -
"When asked if there was discrimination between black and white Jews, M. replied, "Yes, for sure. You will not [find] white Jews wearing yarmulke [a skull cap] doing the hard work or 'hand work.' The supervisors who run the factory are mainly Russian and they are managed mainly by the white Jews, and we are 'Palestinians,' only workers.""
"M. also talked of discriminatory hiring practices, explaining that "most Israelis are hired through the company directly," while West Bank Palestinians require "a special security permit to be employed." The settlement factory has an internal security officer who "takes care of applying for the permits from the Israeli authorities."
See more at:
http://www.bdsmovement.net/2013/sod...ian-factory-worker-10971#sthash.ccx4CGRm.dpuf
THIS news makes my day, A Person Cannot Represent Soda Stream and do work for a human rights group like Oxfam too, they are fundamentally two acts at odds with one another.
The Video below addresses THIS.
Last edited by a moderator: