Joined

Oct 6, 2008
Messages

111,755
Reaction score

46,364
Points

2,300
Location
6. "This is where people whose political identity was largely defined by a naive belief in what they learned in Civics class began to see the outline of

a Regime that crossed all institutional boundaries.

[

International Communism, and its local branch, the Democrats

]. Because it had stepped out of the shadows to unite against an interloper.

It's hard to describe to people on the left (who are used to thinking of gov't as a conspiracy... Watergate, COINTELPRO, WMD, etc)

how shocking & disillusioning this was for people who encourage their sons to enlist in the Army, and hate ppl who don't stand for the Anthem. [

That's how I feel and how shocked at what the Democrats have done to my country].

They could have managed the shock if

it only involved the government. But the behavior of the corporate press is really what radicalized them. They hate journalists more than they hate any politician or gov't official, because they feel most betrayed by them." Tucker Carlson Reads Twitter Thread On Why Trump Voters Distrust Media, Believe 2020 Election Was Rigged The reality has been crushing for those of us who believe in justice, honor, integrity.

The interloper in this case was Trump. Whose political career should have been over the moment he stepped off the golden escalator at Trump Tower.

Here's the bottom line with Trump supporters. They wanted an America back that they knew growing up, where those "dark" and "different" people knew their

place. Where the just, righteous, and god fearing ruling class wouldn't have to answer to anyone but themselves. And they saw Trump as the best chance for that to happen.

Trump came along and was enough of a marketing force to tap into their grievance. It was barely enough to get him elected. And then, he turns out to be every bit the

corrupt and incompetent boob we knew he was. So he gets shown the door. And his followers are crushed. So they believe his lies about the election being "stolen".

They hang on his every word. Huddle around the TV and the computer screen, searching in vain for every scrap of information from alt-right media that they can get

to keep their hopes alive. When 70+ court cases, multiple audits and recounts, and election officials everywhere (from both parties) have said there was no widespread fraud.

The longer it goes on, the more upset and disgruntled they get, and when they don't see anything breaking in their favor, they start fantasizing even more, dreaming that

Trump will soon be re-instated. Unfortunately, most of them know deep down they've been lied to, conned, led down the primrose path by the grifter, his family, and legal team.

But as with Republicans, it's too late for them to admit they fell for the lie, they're all in now.

"The interloper in this case was Trump. Whose political career should have been over the moment he stepped off the golden escalator at Trump Tower."

What an excellent post for revealing the Nazi/Communist/Fascist/Democrat leanings of Bidenistas.

Or.....can you quote where the Constitution....the presumptive Law of the Land.....denies individuals not authorized Leftists/Totalitarians the ability to ask for American's votes to run for office?

Don't forget to press that Brown Shirt.

All terms which you obviously have no idea of their meaning. They're just talking points for you to throw out.

I think the biggest reason for your outrage is that you fell for a con man who had no interest in the job. Now

you're ashamed of being duped. He turned out to be a fraud. And you fell for it.

Did you use the term 'interloper' for an American running for office against the Wehrmacht.....er, Democrats?

These folks:

View attachment 512195

You wrote this:

"The interloper in this case was Trump. Whose political career should have been over the moment he stepped off the golden escalator at Trump Tower."

https://dictionary.cambridge.org › dictionary › interloper Meaning

of

interloper

in English ... someone who becomes involved in an activity or a social group without being asked, or enters a place without permission:.

Why was Trump not eligible in your view?

What policies of Trump's did you vote against?

What policies of Biden's did you vote for?

Bet you can't answer, dunce.

LOL. So when you have no legitimate comeback you deflect and redirect. And paste the same silly chart that you've been trying to sell for months.

Trump was not qualified to be President. He was a moron. Corrupt. Incompetent. End of story.

I voted against his continued tax cuts for the wealthy and corporations, his continued disasters of trade policies, his constant dismantling and kneecapping of government agencies,

and finally, his blowing the response to the pandemic that has so far cost over 650K lives. Good riddance to bad garbage.
"...his blowing the response to the pandemic that has so far cost over 650K lives..."
1. There never was such a bloated number from nothing more than a flu.
Don't forget to multiply it by 0.06%
"The introduction to this table essentially summarizes the findings that 94% of the deaths by COVID-19 were also associated a potential fatal health condition (heart failure) or other significant co-morbidity factor (e.g., obesity). Therefore only 6% of the deaths reported for the virus are not connected with any other
underling illness
.
Table 3 shows the types of health conditions and contributing causes mentioned in conjunction with deaths involving coronavirus disease 2019 (COVID-19). For 6% of the deaths, COVID-19 was the only cause mentioned. For deaths with conditions or causes in addition to COVID-19, on average, there were 2.6 additional conditions or causes per death. The number of deaths with each condition or cause is shown for all deaths and by age groups.
The entire table is worth reviewing, for those who wish to have a better understanding of the realities of this pathogen. A portion is presented below, to offer a sense of the official data available on this subject.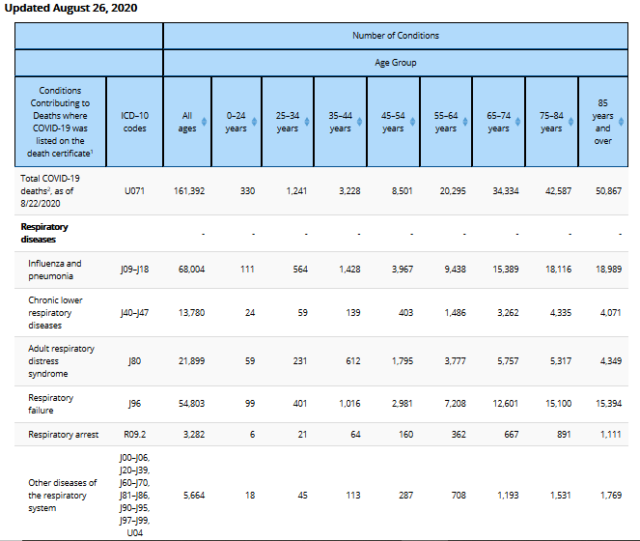 The real meaning of table 3 is that there is a very low chance of dying of COVID-19 without a co-morbidity, especially among young people.

legalinsurrection.com
2. He did a great job......Democrats said so:
"Biden Adviser Gives Trump Credit for 'Great Thing' He Did for the American People
…
Biden's COVID adviser Andy Slavitt gave credit to work done under the Trump administration to get vaccines rolled out.
"So you are grateful for the work that came prior to it?" Bill Hemmer asked.
"No question," Slavitt responded.
"So you would tip your hat to Operation Warp Speed?" Hemmer continued.
"I would absolutely tip my hat," the Biden adviser replied. "This is a scientific process that actually began more than a decade ago with scientists inside the NIH and inside BARDA creating this mRNA vaccine. I think the Trump Administration made sure that we got, in record time, vaccine up and out. That's a great thing and it's something that we should all be excited about."
WATCH: Biden Adviser Gives Trump Credit for 'Great Thing' He Did for the American People
"Gov. Cuomo Heaps Praise on Trump for Responsiveness and Decisiveness Amid Coronavirus Outbreak"
Gov. Cuomo Heaps Praise on Trump for Responsiveness and Decisiveness Amid Coronavirus Outbreak
"California Gov. praises Trump's help on coronavirus crisis"
California Gov. praises Trump's help on coronavirus crisis
"Some Democrats Praise Trump's Leadership Amid Coronavirus
President Trump's recent actions to stop the spread of coronavirus have won him praise from an unlikely source: Representative Ilhan Omar….Omar quoted fellow Squad member Representative Ayanna Pressley (D-Mass.) as saying "unprecedented times require unprecedented leadership," and then added that "we are seeing that in our country right now."
And Dana Bash of CNN asserted the president's new aggressive approach to the virus makes him the "kind of leader that people need."
Some Democrats Praise Trump's Leadership Amid Coronavirus - The New American