Joined

Feb 16, 2016
Messages

8,684
Reaction score

14,001
Points

2,430
Location
White House 'Overwhelmed' by Afghanistan Crisis While Facing Other 'Huge Challenges

​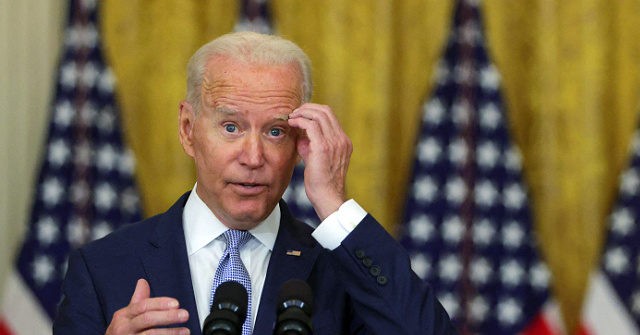 The establishment media reported Tuesday the White House is "overwhelmed by the Afghanistan crisis," and facing many other challenges.
www.breitbart.com
17 Aug 2021 ~~ By Wendell Huesbo
The establishment media reported Tuesday the White House is "currently overwhelmed by the Afghanistan crisis," while facing the southern border crisis, debt limit crisis, and an uncompromising infrastructure fight on Capitol Hill.
"Yet with this intraparty battle brewing, the president and top White House officials are currently overwhelmed by the Afghanistan crisis," Punchbowl News
wrote
Tuesday after the total collapse of Kabul, Afghanistan. "That's not surprising, considering the gravity of what's transpiring in Kabul and throughout Afghanistan. But for Biden and his senior staff, the timing of this foreign policy disaster couldn't occur at a worse time."
~Snip~
CNN
printed
the headline, "US saw a two-decade high in border crossings in July," noting that "The Biden administration is facing a 'serious challenge' at the US southern border, Homeland Security Secretary Alejandro Mayorkas said Thursday, saying the US has encountered an 'unprecedented' number of migrants illegally crossing the border."
Meanwhile, moderate Democrats and Republicans on Tuesday seem to be working together to derail Biden's two-track infrastructure scheme. Rep. Brian Fitzpatrick (R-PA)
told
Fox News, "If the BIF [bipartisan infrastructure] is stand-alone, there is significant Republican support. If the BIF is linked to any other bill or held up for months, that support would fall apart."
House Democrats
demanded
on August 8 for "House Speaker Nancy Pelosi (D-CA) to hold an immediate vote on the Senate infrastructure bill, untying the bill from the Trojan horse reconciliation package amid fears of exacerbating inflation and the national debt."
~Snip~
Biden's inflation woes have not escaped the media's attention. The
Hill
wrote
, "The new inflation: Don't expect food or gas prices to fall any time soon," and that "[t]he Biden administration's policies will worsen the outlook for inflation. Increased regulations have created an energy price shock, and introduced other supply shocks that will slow productivity and output growth and boost inflation."
Comment:
Joey Xi and Kamaltoe OWN THIS MASSIVE Disaster. Thousands of Afghan women and children will be raped and murdered because of their STUPIDITY. I still can't believe they gave up Bagram AFB (which was rock solid secure) and let 6 to 7 thousand Taliban prisoners there go free. Unbelievable and we'll just have to fight these scum again elsewhere. Twenty years, trillions spent, 2500 American brothers and sisters dead, and it all goes up in smoke in a few days because LEFTIST DEMOCRAT IDIOTS ARE MINDING THE STORE.
That said, I've always had my doubts the ANA (Afghan Army) and the ANP (Afghan Police) could make it on their own without us propping them up.
What we are seeing now is the result of elitists with no real experience and ideological amateur politicians in charge of our country.
While the Bai Dung Administration is overwhelmed by the Afghanistan Crisis, the world is underwhelmed by Joey Xi's response. That's the real crisis.
Unless those of you have forgotten, Joey Xi Bai Dung said he would do everything better than Trump, and sooner. Well, here are the results of Joey Xi's incompetent actions.